While minor cuts, scrapes, bites and stings don't usually require a trip to A&E, proper care is essential to avoid infection or any other complication. Bepantiseptic™ ,formerly known as Germonlene First Aid Cream is a handbag-sized antiseptic and analgesic cream for life's smaller traumas.
Summer can throw up unwanted emergencies and Bepanthen™ First Aid Cream is a cream that effectively treats a wide variety of them; from insect bites and wasp stings to minor burns and scalds and even blisters and spots. Its antiseptic action helps prevent infection, plus its soothing local anaesthetic action helps numb the pain.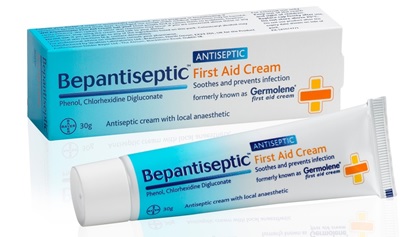 Bepantiseptic™ has a distinctive medicated fragrance and its smooth consistency allows gentle application onto damaged areas, helping it to soothe the skin and allow it to heal.
Bepantiseptic™ is available in grocery stores and pharmacies nationwide.
Bepantiseptic™'s RRP is €4.49
L.IE.CC.07.2013.0116