With over 60% of the Irish population suffering with sensitive skin, Sensibio Defensive Serum is the perfect ecobiological solution to target and treat against skin inflammation. It acts as a moisturising concentrate that repairs, restores and rebalances the skin barrier while acting against inflamm'ageing caused by external aggressions.
Ecobiology is at the heart of Bioderma's approach to skincare, protecting the natural skin barrier which is vital for sensitive and sensitised skin. This hard-working serum contains a collection of biomimetic ingredients (Carnosine+ Vitamin E + Hyaluronic acid) which are naturally found in the epidermal layers, boasting a gentle formula that adapts to the natural PH of the skin.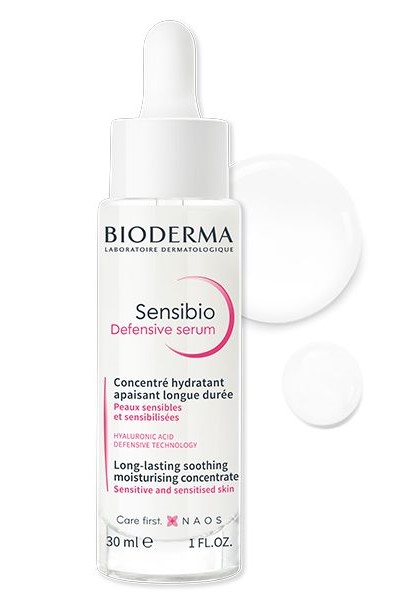 Expertly formulated with low molecular hyaluronic acid and the patented combination of the Defensive Technology's active ingredients, Sensibio Defensive Serum cares for sensitive skin by soothing and strengthening the skin's defences. Thanks to its unique defensive technology, it gets to work on the symptoms of sensitivity, as well as targeting the biological causes, increasing the epidermis's ability to defend itself against external stressors, helping to rebalance skin and prevent premature ageing.
Bioderma's Skincare Expert, Jane Quinn says: "The sensitive skin cycle is triggered by oxidative stress (permanent exposure to external aggressions; UV rays, pollution, etc.) that leads to an impaired skin barrier, and then leading to inflammation, triggering sensitive skin symptoms such as, tightness, discomfort, sensation of heat and tingling sensations. When our sensitive skin is constantly exposed to this cycle it weakens our skin's defences and accelerates premature ageing (fine lines, wrinkles, dehydration, and a lack of radiance). The active ingredients in Bioderma's new Sensibio Defensive Serum contains soothing antioxidants, anti-inflammatory properties and skin barrier strengthening ingredients. This is magic in a bottle and the ultimate answer for sensitivity. We can now treat our sensitive skin and target premature ageing with one product!"
With its light and milky texture, it is easily absorbed, and comes in the form of an oil in water emulsion with no fragrance, ensuring an even better tolerance for sensitive skin. The combination of glycerine and Hyaluronic Acid delivers an intensive and instant boost of hydration to totally revitalise the skin.
For best results, apply on clean skin morning and evening, after cleansing with the Sensibio H2O Micellar Water 250/500ml €12.75/€16.75. For the ultimate soothing trio, finish with the Sensibio Defensive Moisturiser €16, for comforted and hydrated skin.
Sensibio Defensive Serum has been clinically trialled and tested, with 96% of respondents stating that their skin felt soothed as a result of using Sensibio Defensive Serum.
Other results and benefits include:
Reduces fine lines and wrinkles
Offers 24 hours of hydration
Ensures a more radiant complexion
Strengthens skin barrier
Provides double soothing action
Regulates epidermal inflammation and limits hyperactivity of nerve fibre.
Bioderma Sensibio Defensive Serum €32 is available from pharmacies nationwide and e-retailers.