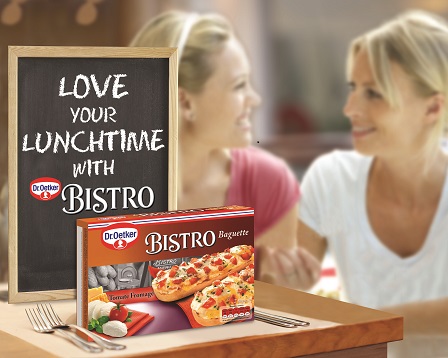 Finding a delicious meal for lunchtime can be tricky, particularly when you've only got a few minutes to spare, however the delicious range of Bistro baguettes from Dr. Oetker are ready in just fifteen minutes giving you plenty of time to freshen up your hair and make-up and get on with the rest of your day.
The Bistro range from Dr Oetker is inspired by the French love of food and created with only the finest delicious toppings. The baguettes are available in Salami, Tomate Fromage and Spéciale (salami, ham, onion and cheese).
Bistro baguettes are crunchy on the outside, soft on the inside and packed full of flavour. We love them for lunch served with a leafy salad, while the new Bistro Mini Baguettes are ideal for a family night in or for casual entertaining.
There's never an excuse for lunchtimes to be boring just because you're in a hurry!
Bistro baguettes from Dr. Oetker are available in supermarkets nationwide, Bistro Baguettes are RRP €2.00 and Bistro Mini Baguettes are RRP €2.99.
July 2013