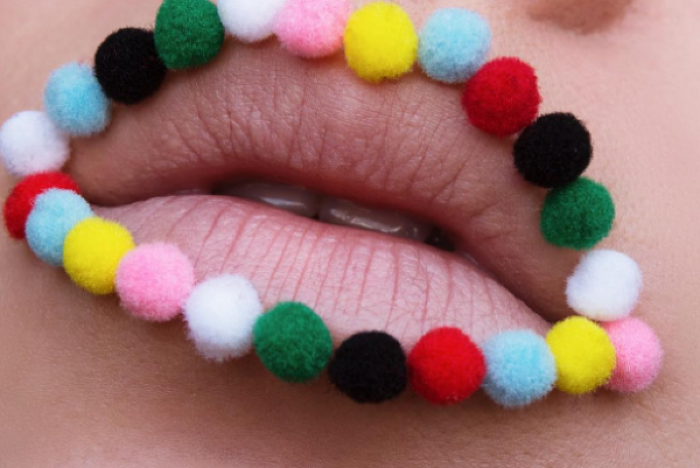 Another day, another bizarre beauty trend that we could never actually wear (but we love to look at, regardless).
Our latest beauty discovery comes in the form of pom pom makeup (yep we're serious), and we can't quite wrap our heads around it.
Do you recall those fuzzy little ball-like things you used to use in art class, to make Christmas cards and various crafty things?
Well, imagine using them as lip liner or eyeshadow - because that is exactly what this cosmetic trend entails.
We are all for having pom poms on sandals or handbags, but we reckon putting them on your face may just be a step too far, right?
Despite this, MUAs on Instagram have been using the craft supply for eye makeup, brow art, lip art and even a colourful, crazy take on contouring.
A Netherlands-based makeup artist posted a picture of her face covered with a rainbow of pom poms in November 2016, and it has been a growing trend ever since.
Others started following suit with similar looks using the crafty goodies, including Berlin-based makeup artist Anne Wenzel and, most recently, blogger Lila Sirena.
Some people have focused the use of pom poms in one specific area of the face, such as around the lips or on the eye lid - whereas others have simply spread them out.
People are even incorporating pom poms into their brow game, which really cannot come as a surprise to anyone considering the brow trends floating around at the moment (dragon eyebrows are actually a thing).
While we can absolutely accept that these might not be the most wearable of looks, they are pretty fun to look at, right?