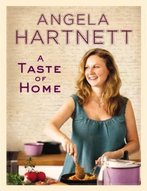 Angela Hartnett's second book 'A Taste of Home' offers over 200 quick and easy recipes perfect for every occasion. The Michelin starred chef and former protégée of Gordon Ramsay combines her love of Italian food with classic recipes that are suitable for even the most amateur of cooks. Most of the recipes are accompanied by a short introduction and some truly mouth watering photography. The book offers helpful tips throughout and encourages the use of any leftovers you might have in your fridge. The recipes are straightforward and you should be able to source most of the ingredients in your local shop or supermarket.
The book is divided into ten chapters including: snacks, soups, salads, pasta and risotto, vegetarian and side dishes, pies and gratins, meat and poultry, fish and shellfish, and a perfectly sumptuous chapter on cakes and puddings. Each chapter has a wonderful range of recipes to try and love and there is something for every mummy. For the not so adventurous the book offers classic dishes with a twist such as shepherd's pie, beef stew with butternut squash and a wonderful macaroni cheese. For the adventurous and accomplished mummy the book boasts unusual recipes including rabbit with fennel, olives and rosemary and chestnut and truffle risotto.
There are dishes to suit any occasion from light and tasty snacks such as crostini and prawn, mango and fennel salad to heartier, wholesome meals like Lancashire hotpot or chicken with chorizo, peppers and sage. The chapter on cakes and puddings is worth a mention as it contains some delicious dessert options that are very hard to resist, including honey-baked oranges with rosemary, lemon and raspberry tart, and chocolate pecan pie.
Angela Hartnett writes that "home cooking is more about sharing good meals with friends than showing off cheffy skills" and this book is a testament to that very sentiment. The recipes are simple with clear instructions and they really do work. Meals are designed with a busy family in mind and nearly all the ingredients can be found in local supermarkets. What I really love about this book is the sheer variety of recipes and tastes that Angela tries to cater for; there are recipes ideal for grown up dinners and recipes that even the fussiest children will devour! Angela Hartnett's "A Taste of Home" is a book to be cherished and deserves pride of place in every mummy's kitchen.
'A Taste of Home' by Angela Hartnett is published by Ebury publishing.