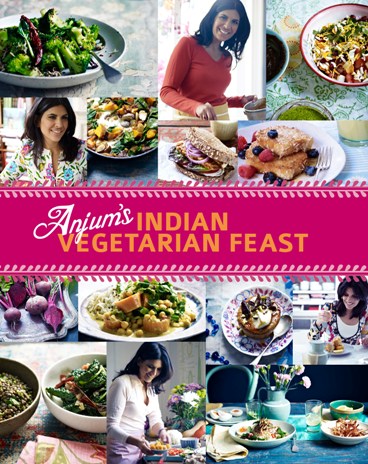 Indian food is so incredibly popular right now with restaurants popping up everywhere. Most families will have their favourite Indian restaurant or takeaway and know exactly what their preferred dishes are. However, despite this incredible popularity very few people seem to know how to cook authentically Indian food, instead relying on jars and pastes to recreate their favourite dishes at home. However, there is a lot more to Indian food than onion bhaji's and chicken Kormas.
The vast majority of Indian people follow a strictly vegetarian diet so if you're a fan of authentic Indian food and are interested in learning how to recreate the uniquely spicy flavours at home, then Anjum Anand's new cookbook "Anjum's Indian Vegetarian Feast will be right up your street.
Anjum Anand is a well known British Indian food writer and TV chef who is famous for her successful BBC cookery show, 'Indian food made easy'. Her new cookbook is exclusively vegetarian and features chapters dedicated to delicious Indian recipes for breakfast and brunch, drinks, starters and snacks, salads and grills, glorious vegetables, cheese pulses and eggs, gorgeous grains, on the side and divine desserts.
Recipes are varied, unexpected and decidedly delicious. Some recipes that we were rather impressed with included Coconut French toast, blackberry-violet compote and easy granola, mini beetroot cakes with radish and yogurt 'chutney', mile-high chickpea burgers with Indian purple coleslaw, lemony spinach and vegetable hot pot and spiced aubergine and tamarind rice.
Here in the MummyPages office, we were also quite taken with the dessert recipes, our favourites being mango, pomegranate, berry and coconut trifle and fluffy egg-free pistachio cakes with orange syrup and dates.
Anjum's Indian Vegetarian Feast is a veritable treasure-trove of uniquely Indian vegetarian recipes and the great thing is they really can be recreated at home. The ingredients are easily sourced and don't cost the earth and the recipes are easy to follow and the results are spectacular. Trust us, you will never reach for the phone to order a takeaway again!
'Anjum's Indian Vegetarian Feast' is published by Quadrille, RRP £19.99