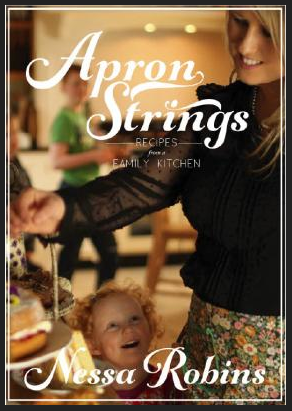 Here in the MummyPages Kitchen, we're definitely of the opinion that one of life's simplest pleasures has to be curling up with a hot cup of tea and browsing through a beautifully photographed and uniquely individual foodie blog.
One of our absolute favourite blogger's kitchens to visit is the warm and inviting '
Nessa's Family Kitchen
' which is lovingly filled with beautifully taken photographs of family and food, delectable yet doable recipes and best of all is as a busy mum to four children, Nessa knows the limitations and demands placed on a mum's kitchen.
We were quite delighted to hear that Nessa somehow found time to photograph and write her very first cook-book fittingly titled, 'Apron Strings'.This cookbook is just what every mum needs in her kitchen. So whether you're a total novice or have just lost your way in the kitchen, there's something in this book to add excitement to all your family's meals. It's packed full of deliciously nutritious recipes that contain affordable, everyday ingredients that even the fussiest of kids will happily devour.
What really makes this book unique is the wonderfully, practical advice that can be found peppered throughout its pages from natural remedies for common ailments to what to include in your diet during pregnancy to how to keep hens. This is a book that you will not only reach for when in search of the perfect birthday cake recipe, but it's a cookbook that you will find yourself reaching for when you need to know what's best for a sore throat.
Some noteworthy recipes that we couldn't wait to try include; sausage meatballs with a tomato & red wine sauce, pan-fried pork in a creamy mustard and sage sauce with caramelise apples, almond meringue slices and brown sugar and cinnamon scones.
So if you're in desperate need of a dig out in the kitchen or are looking for the perfect gift for a cherished mum in your life then check out this gorgeous book.
Apron Strings by Nessa Robins is published by New Island, RRP €22.99 and is available in all good book shops.