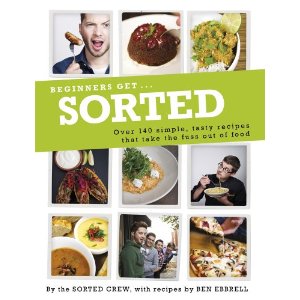 We can't all be a Nigella or a Jamie or a Rachel but that doesn't' mean that we have to commit ourselves to a lifetime of beans on toast. 'Beginner's get sorted' by the SORTED Crew, with recipes by Ben Ebbrell is the ideal book for anyone who is desperate need of a lifeline in the kitchen. The SORTED adventure began with childhood friends sitting around chatting about real life and real food and developed into a SORTED food channel on YouTube which now has over 1 million views a month.
So, whether you have a husband who doesn't know his fettuccine from his fusilli, a teenager who has just headed off to college or a sister desperately in need of cooking inspiration then this book will make the ideal Christmas gift!
'Beginners get sorted' features over 140 simple, tasty recipes that promise to take the fuss out of food. The book is a really terrific way to help you build basic kitchen skills, understand essential cooking principles and create dishes to be proud of.
The book is divided into chapters titled; breakfasts, soups, snacks & fillings, salads, pasta & risotto, meat: quick cooks, meat: slow cooks, fish, sweet treats, puddings, drinks and meals to impress. The book features recipe staples such as jacket potatoes with chilli con carne, chicken, mushroom and tarragon pasta bake, crunchy, creamy chicken satay to warming, wholesome meals such as rustic bean and sausage stew and chicken, fennel and thyme casserole. This terrific book also features some simple, delectable cakes and desserts that are certain to impress such as fresh fruity tart, lemon and blackcurrant fool and even a fool proof and rather irresistible chocolate cake in a mug! There is even a chapter devoted to recipes that are designed to impress your guests, featuring easy-to-follow recipes like red onion tartlet with creamy goat's cheese and lamb with ratatouille.
'Beginners get sorted' is the ideal book to help turn your kitchen disasters into kitchen triumphs. You won't find anything too exotic in this book, the ingredients are easily sourced and the instructions are easy to follow. While some cookbooks look beautiful sitting on a bookshelf, this is a cookbook that you will use over and over again for recipes.
'Beginners Get Sorted' is published by Penguin/Michael Joseph, RRP €22