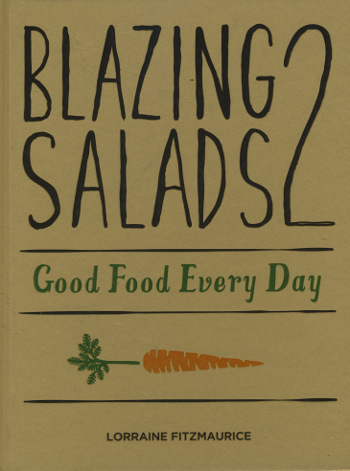 Whether you're vegetarian, vegan or a confirmed carnivore, many of you will be familiar with Dublin's blazing salads located on Drury Street which has been serving up honest-to-goodness vegetarian food for over a decade.
Blazing salads has earned itself many devoted fans for its no-nonsense, flavoursome deli food. It is run by siblings Pam, Joe and Lorraine who were raised on a macrobiotic diet by their forward thinking parents. This year they have released their second cookbook 'Blazing Salads 2'which is packed full of delicious recipes that are not only full of health benefits but also full of flavour too.
Chapters are divided by salads, savouries, soups, main dishes, grains, side dishes and desserts. There is such a wide variety of delicious recipes within the pages of this book that regardless of whether or not you're a vegetarian or not there's something for everyone. In fact, during the summer, the salad chapter would be a welcome addition to any kitchen with gorgeous salads such as rice salad with roasted root vegetables quinoa with roasted ratatouille vegetables and fresh basil, making welcome additions to any BBQ or picnic.
Some recipes that we tried and the whole family loved include: red lentil and brown rice burgers, Moroccan minestrone soup , vegetable shepherd's pie with sweet potato mash and chocolate and our new favourite chocolate cake, the rather delicious chocolate beetroot cake with ricotta and orange.
Blazing Salads 2 is a delightful cookbook that's filled with impressively easy recipes that are mouth-watering enough to tempt even the staunchest of meat-eaters! It's also a terrific cookbook to have on hand when cooking for the whole family as it contains some very kid friendly recipes that will help them get their five a day, including sweetcorn pancakes and sweet potato and carrot bhaji's.
Blazing Salads 2 is published by Gillmacmillan, RRP €19.99