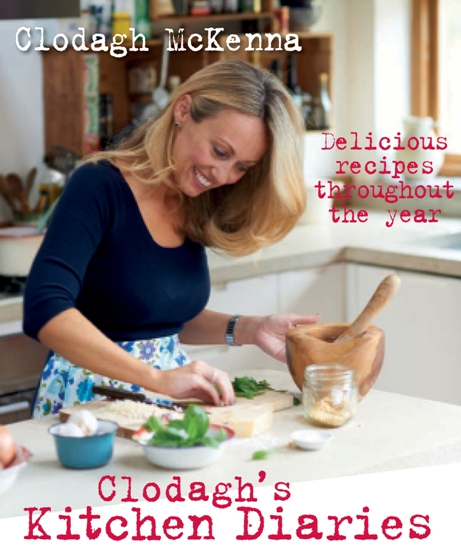 Here at MummyPages, we're big fans of the ever lovely Clodagh McKenna. We don't know about you, but passing Arnotts on a Saturday has becoming increasingly difficult since the opening of 'Clodagh's Kitchen' and we often find ourselves seated in her delectable cafe before we know what's happened. If you haven't popped in, then plan your excuse soon!
Clodagh has already published two best-selling cookbooks which are firm favourites in the MummyPages kitchen. This is why we were very excited to get our hands on a copy of her brand new cookbook, "Clodagh's Kitchen Diaries". This cookbook is an absolute must for everyday cooks who wants to create mouth-watering yet easy food and who longs to put a little sparkle back into mealtimes.
Clodagh's book takes you on a year-long culinary journey from blueberry, cinnamon and flax porridge in January to a mouth-watering roasted rosemary and garlic-infused leg of lamb just in time for Easter. There are crab cakes with lime and tomato guacamole to be enjoyed in the June sunshine and Italian minestrone soup to be savoured on chilly September days.
With Halloween lurking around the corner, there are an abundance of ghoulish treats to amaze your little ones with, from bloodthirsty squash and ghost meringues to freaky fingers and nutty toffee apples. If you're also already getting chills about what to serve your guests at a party this Christmas or fancy doing something just a little different for Christmas dinner, then this book has the answer! From sesame and fennel mini sausage rolls to crab and avocado toasts to wow guests at a party to winter berry sherry trifle to serve on Christmas day. There's even a recipe for a delicious turkey curry to make with any leftovers that's sure to be a hit with the whole family.
'Clodagh's Kitchen Diaries' is a rare gem, it's one of those cookbooks you will find yourself consulting with time after time whether you're having family round for Sunday lunch, planning a cocktail night with the girls or a birthday party for someone special. There's no occasion that isn't catered for in this cookbook. Clodagh has created a cookbook that is a veritable treasure trove of delicious, fuss-free recipes that can be created wih the greatest of ease.
'Clodagh's Kitchen Diaries' is published by Kyle Books, RRP €19.99