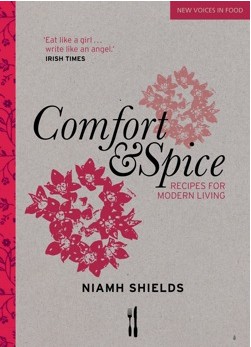 Niamh Shields, famous for her food blog 'Eat Like A Girl', has published her first cookbook, 'Comfort & Spice'. Similar to her blog, the book is relaxed and down-to-earth, with recipes that are very achievable for even the most basic cooks. As Niamh says in her introduction 'Food doesn't need to be complicated, nor does it need to be fussy' and it is in this spirit that she has put together a fine collection of simple, delicious recipes that are perfect for busy mummies.
The book starts out with instructions on 'how to be a better cook'. This is a fantastic start, as this is the aim of most people when they buy a new cookbook. Here she explains how to shop for food, how to work in your kitchen and how to use flavours to enhance the taste of your food.
The book then moves onto the recipes. It is divided into 'Brunch' (light and comforting), 'Speedy Suppers', 'Long Weekend', 'Sugar and Spice' and 'Drinks'. The book often included elements of her Irish roots as well as influences from her various travels. The 'Irish Soda Farls' look like a wonderful way to start any day and she even has a recipe for her own homemade butter (just in case you have the in-laws over for brunch and really want to impress!).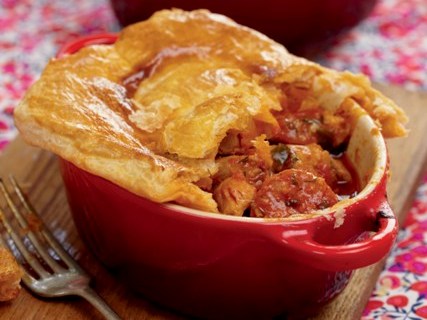 Simple recipes for a family dinner include the 'Chicken and Chorizo Pie' (you'll probably notice she has a serious love of chorizo as it often appears throughout the book – which suits us just fine as we also love adding chorizo whenever possible). Or if you are looking to make something a little more special the 'Overnight Shoulder of Pork with Spiced Apple Relish' is a fabulous dish, perfect for serving at Christmas.
The dessert section contains a few classic recipes with little twists, like the 'Chocolate Mousse with Honeycomb' or the 'Rhubarb and Blood Orange Meringue Pie'. They all sound delicious, and there is a nice combination of 'child-friendly' desserts and more 'grown-up' options.
What is really lovely about this book is that you can really feel Niamh's personality and taste come through the pages. You can tell that she is only including recipes that she really loves and enjoys making, which in turn makes the book far more enjoyable for readers.