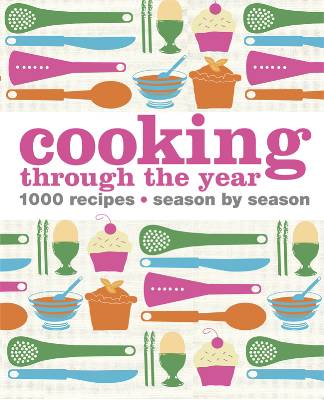 Just as that Christmassy feeling can be conjured at the mere mention of mince pies or at the smell of Christmas cake baking in the oven, the memory of summer or spring can be evoked by sweet taste of fresh strawberries and cream or the smell of roast lamb on a Sunday. We recently received a copy of a delightful new cookbook, 'Cooking through the year'. It's a veritable feast of recipes which takes the reader on a journey through the seasons. There are 1000 recipes contained within the vast pages of this book, each more delicious than the last.
This cookbook has every seasonal occasion catered for, from summer barbeques to warming autumnal soups to festive winter fare. There are gorgeous recipes for spring from a hearty salmon and prawn fish pie to a scrumptious Pavlova with tropical fruit. Summer recipes include divine strawberries and cream macarons, roasted red pepper tart and summer frittata with ratatouille. Warming autumn recipes include beetroot and apple soup, cinnamon and plum cobbler and pear pie with walnut pastry. Wintery dishes to help stave off the cold include beef and parsnip casserole, butternut squash pasta in chilli and parmesan sauce and pork chops with apple and baby onions.
As you can tell, there are so many diverse recipes to pick and choose from in this book, from homely Sunday roasts to quick and easy midweek dinners, there's something for everyone. It's the perfect book for anyone who longs to get into the kitchen but feels a little lost at how exactly to begin or equally for the more adept cook who has lost their way. This book is designed to make life a little easier for busy people everywhere, just flip open this book and you are guaranteed to find a recipe to suit your mood or what you have in the fridge. It would also make a perfect gift this Christmas for any food lovers in your life.
Cooking through the year is published by DK, RRP €30