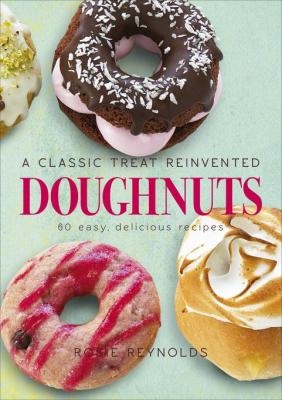 Rosie Reynolds celebrates the doughnut in her new cookbook
Doughnuts: A Classic Treat Reinvented
. Through her 60 mouthwatering recipes, Rosie introduces mums to much more than the average doughnut.
Reynolds' recipes vary from ice-cream sandwiches in a soft, sugary doughnut to peanut butter and jam fillings. Rosie's Lemon Meringue and Pumpkin Pinwheels really highlight the versatility of cooking with a doughnut base.
Mums can use the author's Dill and Smoked Salmon or Parmesan and Parma Ham Bites as canapés, her delicious Marshmallow Doughnuts would make a great treat for a children's party, Pizza Triangles would be perfect for a quick snack and the Corn and Chilli recipe would be ideal for lunch.
Rosie's doughnuts are rolled in sugar, topped with cream, dipped in chocolate, used as a sandwich, served as lunch, and she covers recipes for those who need gluten-free or dairy-fee.
Readers are taught how to make fried, baked and cake based doughnuts and will be able to experiment with their own recipes once they have mastered the art of Rosie's classic doughnut base.
The cookbook is beautifully decorated and mums will have lots of fun trying out all the different types of doughnuts with their little ones.