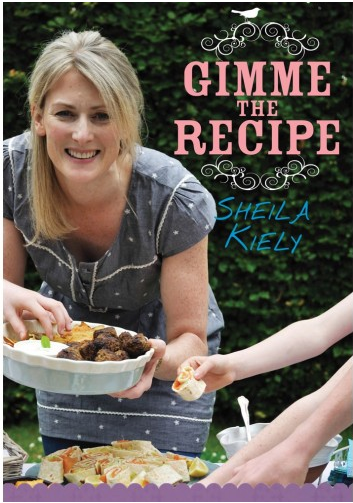 We here at MummyPages have a not so secret passion for cookbooks, especially those aimed at busy mums! We're all guilty of picking up a copy of a cookbook that's filled with decadent but mind-bendingly complicated recipes perfect for dinner-parties and impromptu soirees but not so perfect for everyday family life . Wonderful to have but who has the time or the inclination to use them? With this in mind, now may be the time to have a cookbook spring clean, declutter that shelf in the corner of the kitchen and make room for Sheila Kiely's new cookbook 'Gimme the recipe'. We couldn't wait to get our hands on a copy as we've been following Sheila's fabulous blog,
www.gimmetherecipe.com
for years and just knew her cookbook would be something special. To be honest, I'm not quite sure how I survived without it! Sheila is a busy working mother of six young children who loves to cook for family and friends so she knows a thing or two about the importance of fuss free and practical recipes.
'Gimme the recipe' is cleverly divided into three main sections, the first being 'what's for dinner mom?' which is filled with easy to follow, and delicious recipes suitable for every day of the week. She has super quick recipes perfect for when every second counts like her scrumptious
frittata
and her moreish spaghetti with pesto, bacon and broccoli. She has recipes which will lift you out of your chicken dinner rut with delicious
creamy pesto chicken
, spicy piri-piri chicken and her warming chicken, tomato and red pepper casserole which conjures up images of wonderful winter's evenings spent huddled together with great-big steaming bowls of this stew. She has included some fabulous beef recipes such as home-made beefburgers and the fantastically easy
beef and mushroom stir-fry
. There are even recipes for your very own DIY takeaway night such as Indian chicken curry and easy home-made pizza, which I guarantee will make you forget the phone number to your local takeaway.
Now, on to our favourite section, baking day! Shiela writes that of all the cooking she does, baking is probably the most satisfying, enjoyable and rewarding. We couldn't agree more, her passion for baking really shines though-from her cheese and bacon breakfast scones to her double chocolate cupcakes, from her wicked chocolate brownies to her heavenly
double strawberry and oreo cheesecake.
Each recipe is photographed so beautifully and written with such clear and concise instructions; they can't help but inspire even the most cautious of home-bakers to try something new. For those of you, who until now have been too afraid to host a dinner-party, then Sheila can help! Her 'dinner party' section offers impressive but simple recipes like chicken stuffed with herby goat's cheese in prosciutto or delectable beef and red-wine hot pot that are designed to impress your guests and have them beg you to 'gimme the recipe'.
Sheila's book is written in her own no-nonsense, friendly and down to earth style which makes reading her cookbook like swapping recipes with a fellow mum at the school gate! So, if you take our advice and buy the book you can always rely on 'Gimme the Recipe' to offer tips, recipes and advice about the best quick snacks to keep the kids quiet or a stunningly simple cake to wow at a children's birthday party. Sheila aims to answer that time old question of 'what's for dinner mom?' hoping to make life just a little easier for overstretched mums everywhere. This is a cookbook to be consulted with, poured over and ultimately treasured. It's a cookbook to share with your best-friend, your mother or your sister. Expect to hear alot more of the phrase 'gimme the recipe' after cooking one of these delectable dishes!
Gimme the Recipe is published by Mercier press in paperback at €17.99.