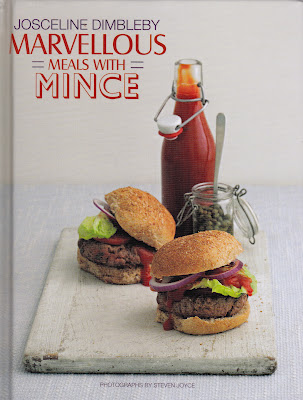 Mince is a wonderfully versatile, pocket-friendly and flavoursome dinner option particularly for busy mums. There are so many terrific ways to enjoy mince yet many of us still struggle to find new and exciting recipe ideas. With this in mind, we were delighted when we came upon this gorgeous little book; 'Marvellous meals with mince' by Josceline Dimbleby. It is filled with delectable meal ideas that contain easily sourced and reasonably priced ingredients. This cookbook is a really terrific yet simple way to change the way your family eats for the better.
Josceline Dimbleby first came to prominence in the early 1980s when the supermarket Sainsbury's published a series of compact, glossy cookbooks. One of their most successful books was Josceline Dimbleby's 'Marvellous Meals with Mince' which has just recently been republished as a glossy colourful cookbook with new inventive ingredients. The book contains recipes for minced beef, pork, veal, chicken, turkey and fish which are ideal for everyday family meals. There are also some rather elegant recipes which would certainly impress at a dinner party such as quenelles with a saffron sauce.
'Marvellous meals with mince' is divided into the following chapters; beef, pork and veal, lamb, chicken and turkey and fish. All recipes are accompanied by a short and often sweet introductory note about the significance of the recipe. The book is also beautifully adorned with mouth-watering photographs which are sure to whet the appetite.
Some of our absolute favourite recipes include; beef and mushroom rissoles, apple and spinach pork, pesto pasta with chicken and pork meatballs and turkey balls with lemon and cardamom. The recipes are easy to follow and don't require a lot of exotic ingredients so you're sure to find yourself making the recipes over and over again. If you're looking for an easy way to add a little variety and spice to your kitchen repertoire then this is the book for you.
'Marvellous meals with mince' by Josceline Dimbleby is published by Quadrille, RRP £9.99