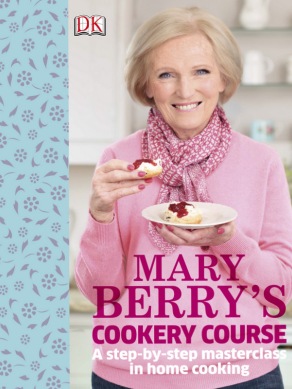 For many of us, there really is no better way to unwind than by arming yourself with a large cup of tea and a chocolate biscuit (or two) before sitting down to watch your favourite cookery show. Here at MummyPages HQ, we're of the opinion that when it comes to baking it's pretty hard to beat Mary Berry, the much loved and highly respected cookery writer and baker who is widely known for being a judge on the hit BBC2 TV programme, The Great British Bake Off.
We couldn't wait to get our hands on her brand new book, 'Mary Berry's Cookery Course: A step-by-step masterclass in home cooking.' This cookbook is fabulous, from its delightfully enticing blue and pink cover to the effortlessly impressive recipes located within. It's the ideal book for everyone from kitchen novices to competent cooks who just need a little inspiration.
The book features delectable recipes for everything from soups and starters, to main courses, bread, puddings and cakes, each chapter begins with a master recipe designed to build and perfect those essential skills. Mary gives lessons on how to make classic dishes such as leek and potato soup and her famous Victoria sandwich cake.
It's almost impossible to just single out a few recipes but if we absolutely must, then some of our favourites would include; parmesan crusted chicken, steak with onion marmalade, hoisin pork stir-fry and vegetable curry.
The desserts demand their very own mention and in our humble opinion, she's really outdone herself. There are sinfully sumptuous puddings including apple-stuffed pancakes and pineapple and ginger Pavlova. Cakes and biscuits include chocolate éclairs and lemon drizzle tray bake.
Mary Berry's cookery course' guarantees to expand your cookery knowledge and hone your skills in the kitchen and just as you look forward to seeing her on 'The great British Bake Off' you will find yourself looking forward to consulting with her cookbook when you fancy upping your culinary game!
Mary Berry's Cookery Course is published by DK, RRP £25/ €30