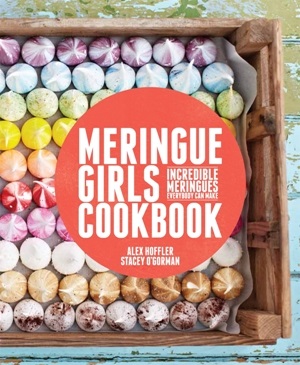 The
Meringue Girls Cookbook
is putting meringues back in the spotlight and making them cool again. Using all natural colours and flavours, the book puts a new twist on the classic recipe opening the readers' eyes to a whole new meringue world.
Meringues are notoriously hard to make, their mixture is temperamental and you need to work quick, but this book will show you an easy way to ensure fail-proof baking every time. Alex and Stacey's recipes have exciting flavour combinations, delicious fillings and creative designs.
The Pretzel Chocolate Marshmallow Meringue Tart and Almond Meringue Roulade show how flavour possibilities are endless, the Strawberry Meringue Ice Lollies would be perfect on a hot day, the Meringue Rainbow Cake would make a show stopping cake for any occasion and no child's birthday party is complete without a Meringue Alphabet.
All their recipes are naturally gluten-free and the girls recommend using only the best quality natural ingredients such as free-range egg whites.
With its augmented reality, allowing readers a unique and interactive way to access additional content on their smart phone or iPad, and easy to read instructions mums will delight in making a meringue for every occasion.