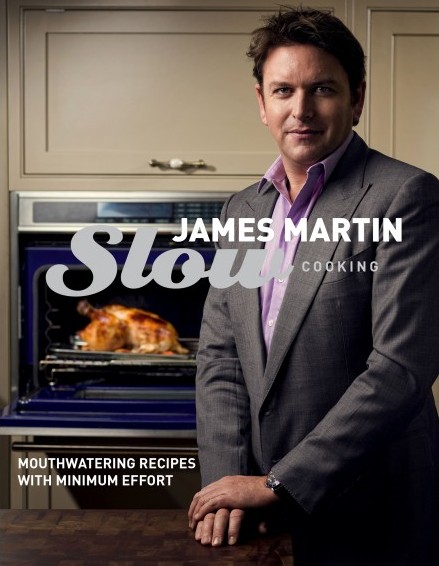 Who doesn't love James Martin? He's the loveable chef from Yorkshire who presents BBC's Saturday Kitchen. His food is unapologetically hearty and comforting featuring roasts, soup and stews.
Slow Cooking offers a delicious array of recipes that can easily be rustled up. The book is divided into the following chapters: slow soups and broths, slow vegetables, slow fish, slow-one pots, slow roasts, slow stews & braises, slow puddings and slow bakes.
I think most mums will agree that just because a recipe takes time to cook doesn't necessarily mean it requires a lot of effort. Some of the easiest and most enjoyable dinners to serve are warming stews or a classic roast with all the trimmings. Dinners like these can be real time-savers as you can pop them in the oven while you turn your hand to the other million and one tasks mums are charged with.
This book features lots of classic family favourites as well as lots of new ideas that promote the philosophy of slow cooking as well as lots of wonderful new ideas that are sure to become firm favourites. Some recipes we couldn't wait to try included; chicken with red peppers, chorizo and chilli, beef stew with dumplings, slow-braised shepherd's pie, slow roast pork shoulder with scrumpy and apple sauce.
James has also included some really gorgeous slow puddings and bakes which are sinfully good. We couldn't wait to try everybody's childhood favourite, baked rice pudding with quick strawberry jam. Some other delicious dessert recipe include; a wickedly tempting banana and custard tart and a rather gorgeous grapefruit marmalade cake.
So, what's our verdict on 'Slow Cooking'? It's another winner for James Martin featuring great tasting recipes that don't require a lot of effort just a little bit of time. It's a book you will find yourself taking out again and again particularly if you're looking for something special to cook for Sunday lunch or a family occasion.
'Slow Cooking:Mouthwatering Recipes with Minimum Effort' by James Martin is published by Quadrille, RRP £20, hardback.