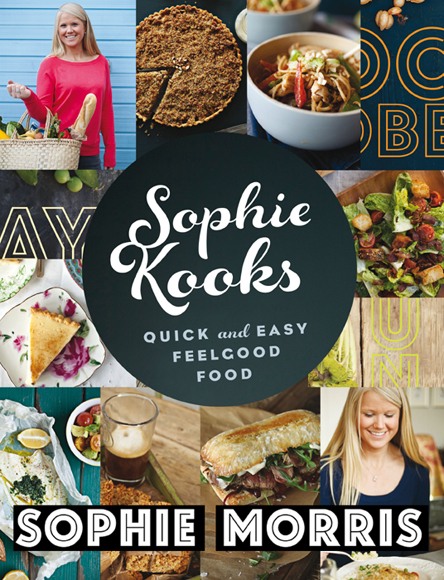 Sophie Morris is a hugely impressive lady. Many of you will have become familiar with Sophie after she rather famously turned down investment offers for Kooky Dough on Dragons' Den only to sign a huge distribution deal with Tesco soon after. There seems to be nothing stopping Sophie as she has just published her very first cookbook, entitled "Sophie Kooks" in which she extends the Kooky Dough philosophy of creating meals that are fuss-free, natural and delicious food to a whole range of wholesome, simple recipes.
Sophie is a firm believer that no matter how busy a person is, there should always be time to create a nutritious, satisfying meal, using basic ingredients which are readily available and usually found somewhere in the kitchen cupboard. She doesn't claim to be a chef but she advocates nourishing, home-cooked meals that won't break the bank or require a ridiculous amount of ingredients.
'Sophie Kooks' is divided into chapters, each based on a specific month of the year. Each month contains eight seasonably suitable recipes. There are some really hearty, wholesome, comforting recipes that we just couldn't wait to get into the kitchen and try.Sophie has deftly plotted out a year in recipes, from spiced parsnip and carrot soup in January to rhubarb fool with almond biscuits in April to crispy caramelised chicken thighs with lemon and coriander rice. Sophie has recipes that are designed to combat chilly autumnal weather, such as October's oaty and blackberry crumble or beef and thyme cobbler in November.
What's really wonderful about this cookbook is that it contains recipes designed for busy people everywhere. This means 'Sophie Kooks' is the perfect book for us busy mums. The recipes are inventively put together but are totally accessible, meaning that no matter your time or budget constraints you will be able to open this book and find a delicious recipe that's easily prepared and easily enjoyed.
Sophie Kooks by Sophie Morris is published by Gill & Macmillan, RRP €22.99