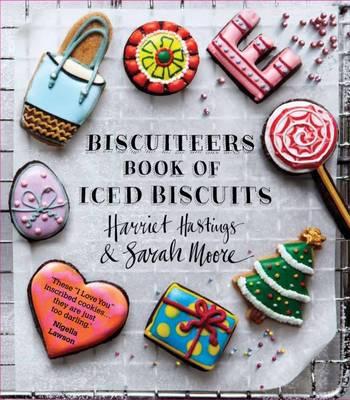 For many people there is no greater comfort than sitting down with a delicious biscuit and a cup of tea and I think most people will agree that a homemade biscuit is far superior to anything bought in the shops today. It can be so enjoyable to spend a rainy afternoon making homemade biscuits and then getting the kids to help decorate them. Biscuits also make wonderful gifts and can be decorated to suit any occasion. We were delighted when we recently received a copy of 'The Biscuiteers Book of Iced Biscuits' by Harriet Hastings & Sarah Moore which is filled with enchanting recipes for beautifully handmade decorated biscuits.
This book is beautifully illustrated, easy to follow and designed to help master the art of baking and icing show-stopping biscuits perfect for special occasions or to give as unique personal gifts. This book will expertly guide you through how to learn how to bake and how to decorate cookies for every occasion from: birthdays, weddings, children's parties and festive celebrations to poodles for dog lovers and shoes for the well heels, cars for your other half and watering cans for the garden lover.
Some of our absolute favourite designs include; Christmas baubles which can be hung with a ribbon on the tree, a rather gorgeous gingerbread house and some very sweet cupcake biscuits. There are also some scrumptious recipes for biscuits including peanut butter biscuits, chocolate biscuits and vanilla biscuits.
'The Biscuiteers Book of Iced Biscuits' would make a really lovely gift for someone who loves to bake and decorate or equally buy it for yourself and before you know it you will be serving wondrous iced biscuits for your next family birthday or special occasion.
The Biscuiteers Book of Iced Biscuits by Harriet Hastings & Sarah Moore is published by Kyle Books, RRP £12.99/ €16.99