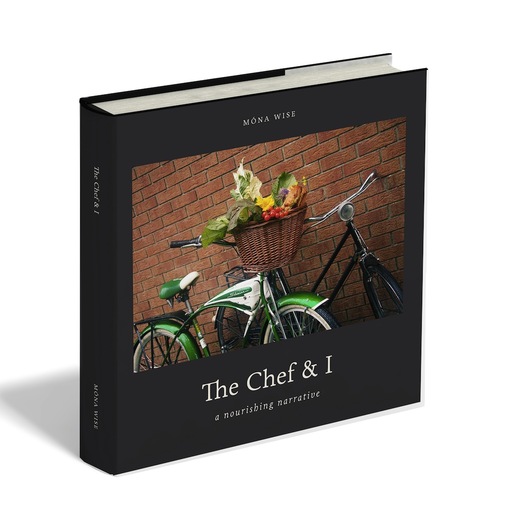 Here at MummyPages, we are, to put it rather mildly very fond of Mona Wise's blog, '
wise words
'. Mona's blog is a warm, funny and delicious account of her life with her talented chef husband, their children and the meals they have shared. Mona's delightful blog features recipes, stories and anecdotes based around the premise that she writes while her husband 'the chef' cooks and the kids make a big mess!
Born in Galway, Mona spent fifteen years in the US where she met and married Ron Wise in Cincinnati, Ohio. After many adventures including building a home and restaurant together they decided to return to Galway with their two young children and the rest as they say is history!
Mona's book contains a loving, personal, sometimes sad and often humorous account of the story of their lives often based around good food shared, enjoyed and as always cooked by the chef! The second half of the book features some of Ron's favourite mouth-watering recipes that he cooks for family and friends. Mona gives an engaging and open account of how they met, fell in love, and got married. She writes movingly about the challenges they faced to have children, their decision to adopt and about all the joys and worries that is encompassed by parenthood.
'The Chef & I' features some truly wonderful, hearty recipes often with an American influence, designed to well and truly satisfy the whole family. Recipes range from comforting chicken tortilla soup to tangy coleslaw with noodles and mandarins ideal for summer sunshine to the very delectable chicken Marsala. The delightful cookbook portion of this book also treats the reader to some very lovely and beautifully photographed cakes, bakes and desserts including the enticingly sumptuous 'Grandma's chocolate nutty pie', a rather luscious lemon tart and a must try cherry pie!
'The Chef and I' is a truly magical read that began its journey as a project for college and ended with Mona taking the plunge by deciding to self-publish the book. So, if your want a book to get lost in for a few hours before deciding that you absolutely have to try at least one if not all of the delectable recipes then look no further. It's a book that I guarantee you won't be able to put down and I also guarantee that by the time you have rather wistfully turned the last page you will feel as though Mona and Ron have become somewhat like old friends and you won't be able to resist hopping on to Mona's blog to see just what exactly they are up to! If you have a passion for food, life and just love a beautifully told story then you simply must buy this book.
The Chef and I: A food Memoir
by Mona Wise is available to purchase from
www.kennys.ie
and is €25.00