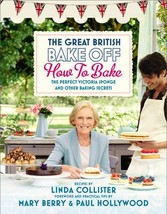 'The great British bake off: how to bake the perfect Victoria sponge and other baking secrets' is the new book which was written as an accompaniment to the hugely successful second series of Great British bake off. The series, for those who didn't tune in, saw 12 skilled home bakers battle to win the title of the Great British Bake Off's best amateur baker. The book features tips and advice from the show's expert judges, Mary Berry and Paul Hollywood as well as over 120 divine recipes. This book is a visual feast of cakes, pies, biscuits, puddings and desserts, and I for one,have found myself mesmorised by its sinfully delicious photography. It is an absolute must for anyone who loves baking or for those who just want to learn the basics.
The book is divided into chapters each beginning with a specific baking skill which one must master before attempting to tackle Mary and Paul's technical challenge. For instance, the first chapter instructs you to learn how to make the perfect Victoria sponge before attempting to make Mary's coffee and walnut battenburg. There are chapters dedicated to cakes, biscuits and teatime treats, bread, pies and savoury pastry, tarts and sweet pastry, patisserie, puddings and desserts, and celebration cakes. The book also contains best of the bake off recipes which were made on the show including some of my personal favourites, pina colada macaroons and chocolate orange mousse cake.
There is so much more to this book than just recipes, it is a book which covers everything you will need to know to become an accomplished baker. The book offers invaluable insights about technique, baking terms and ingredients which will help make your baking taste and look like perfection. The step by step recipe guidelines are precise and easy to follow and more importantly the recipes really do work!
The Great British Bake Off has a recipe for every mummy and for every occasion. There are recipes that are simple enough even for little ones to make such as quick apple tarts and monkey bread. There are savoury recipes for light snacks like spicy chicken pasties and wholesome dinner ideas like rich beef casserole with dumplings which are perfect for wintry days. There are delightful cupcakes ideal for birthday parties and celebration recipes designed with the show off baker in mind like the very impressive chocolate and raspberry opera cake.
So, no matter how accomplished a baker you are there is something new and exciting to discover inside 'The Great British Bake Off'. It is a book that demands to be poured over, gazed at again and again and consulted for any occasion.
'The Great British Bake Off: how to bake the perfect Victoria sponge and other baking secrets' is published by Ebury publishing.