Have you ever picked up a cookbook and felt completely daunted by the long winded recipes and seemingly unending list of ingredients printed on the pages before you? If you have, and who among us hasn't? Then, Fay Ripley's new cookbook 'What's for dinner?' is for you. Fay is an actress, mother of two and passionate home cook whose first cookbook 'Fay's family food' was a bestseller and won rave reviews particularly with mums.
'What's for dinner?' includes 100 of Fay's favourite
recipes
that are deliciously easy to make. As a working mum, Fay understands what it's like to get stuck in a food rut and with this in mind, she has created a cook book filled with no fuss, affordable recipes that really work and are perfect for any night of the week. Fay has even included an ingenious corner shop chapter designed for those days when you're rushed off your feet and open your refrigerator to find nothing more than half a lemon and a rather questionable jar of mayonnaise! Finding myself, in this exact predicament I consulted with Fay's cookbook, popped to my local shop and was delighted to discover everything I needed to make her divine falafel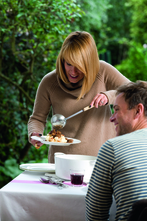 burgers.
Fay's book is divided into days of the week chapters, each containing delectable recipes which dare to turn even the most mundane of Mondays or the wettest of Wednesdays into something memorable. For instance, I can't think of a better way to kick start Monday than with a bowl of her delicious yet gratifyingly affordable rise and shine recession granola for breakfast or with a generous serving of her light-hearted
ping pong chicken noodle salad
? Fay offers a quick and easy way to liven up every day with one-pot dishes like
tangy chicken and squash traybake
,
sweet lamb stew
and her all in one paella. There are wonderfully effortless Friday night dinners such as sweet sticky chicken and Thai fish curry which will inspire you to throw away the takeaway menus in favour of something quick and easy from your very own kitchen. If you thought baking a sumptuous cake or pudding was beyond reach, then prepare to be amazed at how simple Fay's cakes and desserts are. I particularly loved the
passion
fruit fairy cakes
, easy lemon and raspberry tart,
Auntie Aggie
and her hand me down carrot cake.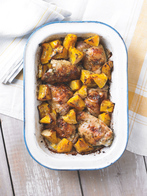 'What's for dinner?' is packed with lavish photography designed to inspire and mesmerise. Fay's recipes are family friendly, disaster proof and are genuinely useful for busy mums. This cookbook is packed with affordable recipes with easy to find ingredients, simple instructions and loads of tips for feeding babies, freezing and preparation guidelines. If you're a cooking novice or a dab hand who's lost their way in the kitchen then Fay's cookbook can show you the light! Her wit and relaxed way with words makes opening this cookbook like inviting an old friend into your kitchen to share her recipes, advice and good humour.
What's For Dinner? by Fay Ripley (Collins, £20) Images © David Munns.