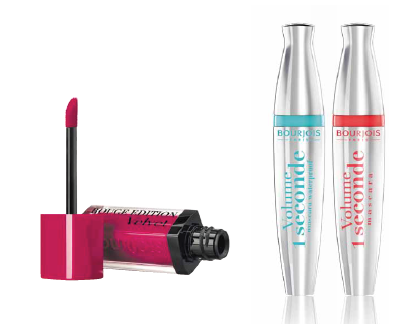 If you are a beauty fanatic, you will be excited to hear that Bourjois have unveiled two new products: Bourjois Rouge Edition Velvet and Bourjois Volume 1 Seconde Mascara.
If you are after a new lip colour, Bourjois' Rouge Edition Velvet is just for you. With its bold matte finish and enhanced colour, your lips will be the envy of your friends and family.
It has a light-weight melting texture and gives a bare lips sensation that all mums crave. It has an easy application, lasts for 24 hours, doesn't smudge and delivers even coverage making it perfect for busy mums who don't have time to reapply their make-up.
With eight on-trend shades to choose from you will definitely find one to suit you.
However, if you are a mascara fan and are after some much needed volume, then Bourjois Volume 1 Seconde Mascara is just for you.
The secret behind the mascara's success is the perfect match and balance between the formula and its brush.
The brush has a wraparound spherical bristles for perfect volume from every angle and cleverly alternates bristles fitted with small wraparound spheres and straight bristles.
It does not increase volume at the roots only, but generously delivers the mascara right through to the ends of the finest lashes.
Even better, this high volume mascara is removed in a single step, reliably lasts 16 hours and is available in a waterproof formula with 24 hour hold.
You can't go wrong when you have the perfect mascara and lip gloss - it's time to treat yourself to some new make-up.