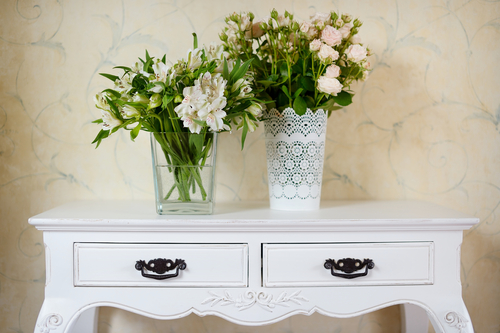 There is just something about spring that makes us feel like it's time to add a bit of colour to our home (and do a bit of spring cleaning!).
Here are eight ways to bring the new season into your home:
1. Fill your home with flowers from your garden – if you don't have green fingers, head to your local florist.
2. Cover your couch with breathable white cotton slips. The room will instantly feel brighter.
3. Add a pop of colour with some new cushions on your bed and sofas. You don't need to spend a fortune, just pick up something cheap and cheerful.
4. Colourful placemats and napkins are another cheap way to bring the spring inside.
5. A potted green plant will add texture to your home and bring a little of the outside in.
6. Line colourful, scented candles along your mantelpiece and you'll still be able to smell the delicious scent of spring even at night time. Go for a flower or fruit fragrance.
7. Don't forget about your bedroom. A lovely floral or paisley-style bed sheet will ensure you go to sleep thinking about spring.
8. A floral wallpaper on a focal wall is also a lovely way to bring in spring if you have a few bob to spend.