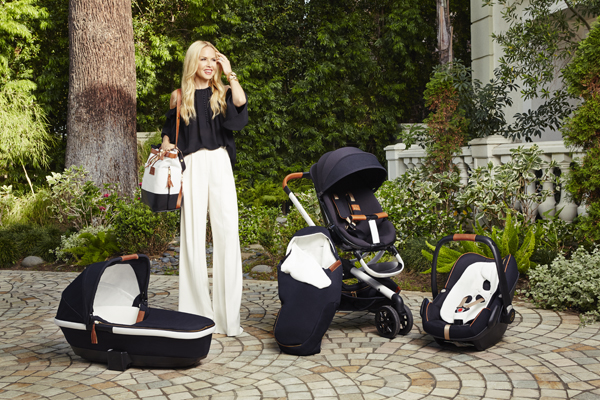 When it comes to the essential equipment for our precious babies, safety and comfort are always the most important details – but why should we compromise on style? We have good news – with the Quinny x Rachel Zoe Collection, we don't have to.
MummyPages was recently invited to road-test the Quinny x Rachel Zoe Collection, consisting of the Moodd Stroller and accompanying Maxi-Cosi Pebble Plus car seat, Foldable Carrycot, Footmuff and stylish Changing Bag. Each component was designed by US fashion designer Rachel Zoe. Revered by Hollywood's elite as the stylist of the moment, Rachel is also a mum-of-two, meaning she knows exactly what a style-savvy mother is looking for in a travel system.
This is, without doubt, the most stylish travel system we have ever set eyes on and used. Designed with that jet-setter lifestyle in mind, to pay homage to the luxurious detail found in vintage leather luggage, this 3-in-1 system is to die for – from the cognac leather and gold detailing, to the chic black and white colour scheme.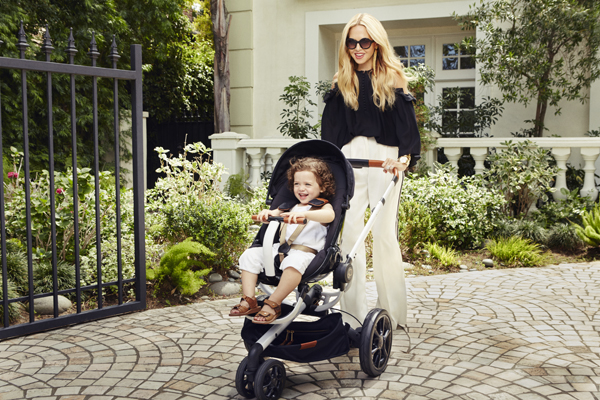 Let's take you through the essentials, piece by piece:
The Moodd Pushchair
Let's start with the Moodd Pushchair which, described as 'the majestic pushchair', well and truly lives up to its reputation. Suitable to use from birth all the way up to three-and-a-half years, the Moodd not only oozes luxury and style, but is also super-efficient.
Designed to be used with a Foldable Carrycot or a matching Maxi-Cosi car seat, the Moodd has a travel setting for every age. The two-way reclining feature means that your little prince or princess can travel in comfort at any stage – reclining to fully flat for newborns, and adapting for them to face the streets as they get older.
What we love about the Moodd, aside from the stunning design, is how functional it is for a busy mum. Its intelligent wheel design makes it easy to manoeuvre, and it unfolds automatically – a win-win situation for any parent!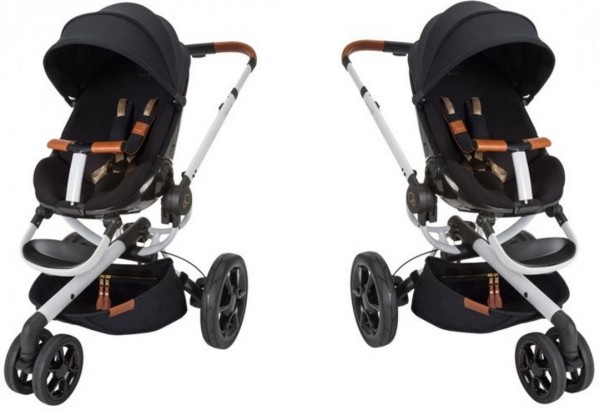 Maxi-Cosi Pebble Plus car seat
With state-of-the-art safety and optimal comfort features, this car seat has been designed to be as safe and comfortable as it is stylish – music to our ears!
Suitable for use from birth to approximately 12 months, the Maxi-Cosi Pebble Plus is the perfect match for your Moodd pushchair.
You can rest assured that your little one is as protected as possible; not only does this seat comply with the i-Size regulations, it also features impact-absorbing material which provides extra protection in the event of a side-impact collision.
Any mum who has had trouble finding the right car seat for their little one will know that comfort is key, here – which is why the Pebble Plus is a godsend! Its baby-hugg inlay means that your tot will enjoy a better fit and lying position while on the go.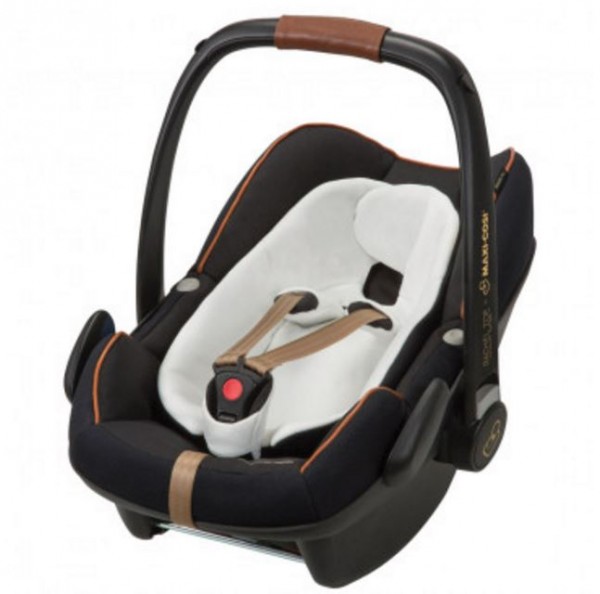 Foldable Carrycot
Speaking of comfort, you can rest assured that your newborn will enjoy the same high standards from the Foldable Carrycot.
Providing optimum lie-flat sleeping comfort for your baby, it is the ideal solution for those trips during your little one's early weeks and months.
Just like the Moodd, this carrycot is super-easy for mums to manoeuvre, folding to a compact flat package in a matter of seconds – no fussing and wasting precious moments when you could be on-the-move!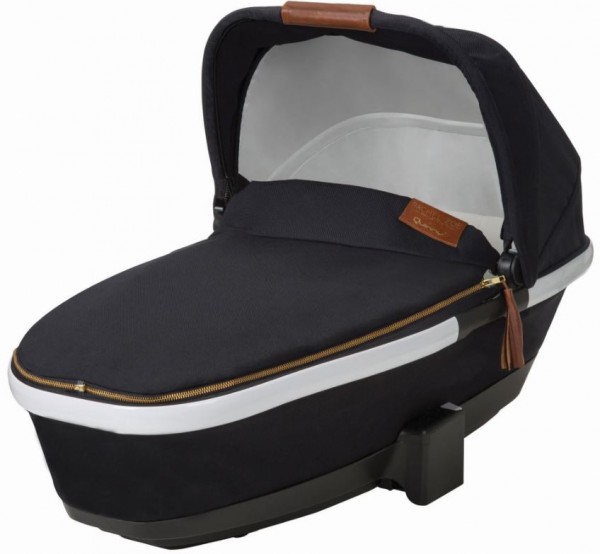 Changing Bag
Practical but stylish, the matching diaper bag is the perfect accessory for your day out with your little one.
The gold-tone hardware is to-die-for, and we were just as impressed when we looked inside. There is so much room for your daily essentials, and the zip-around cooler bag and interior insulated bottle pockets are super-handy for a busy mum on-the-go.
The bag's straps are convertible, meaning you can throw it over your shoulder or wear it as a backpack, so it will suit any and every adventure.
The coordinating changing pad and waterproof pouch are proof that Zoe really has thought of everything, here.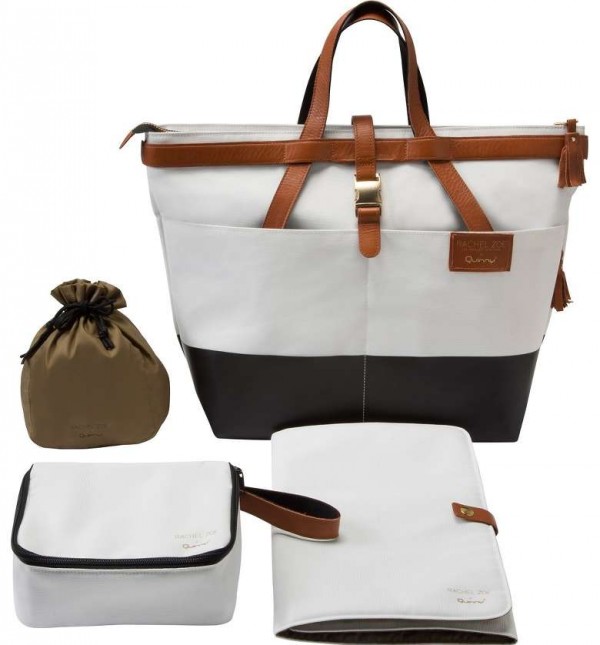 Footmuff
We all know how important it is to keep our little ones as comfortable and cosy as possible when heading out, and sometimes we need a little more insulation than their favourite blanket can offer!
Zoe has really thought of everything with this collection, which is really evident in the addition of this matching footmuff.
The Quinny footmuff, which is suitable for children up to three-and-a-half years, will keep your tot snug as a bug in both warm and cold temperatures. Sorted!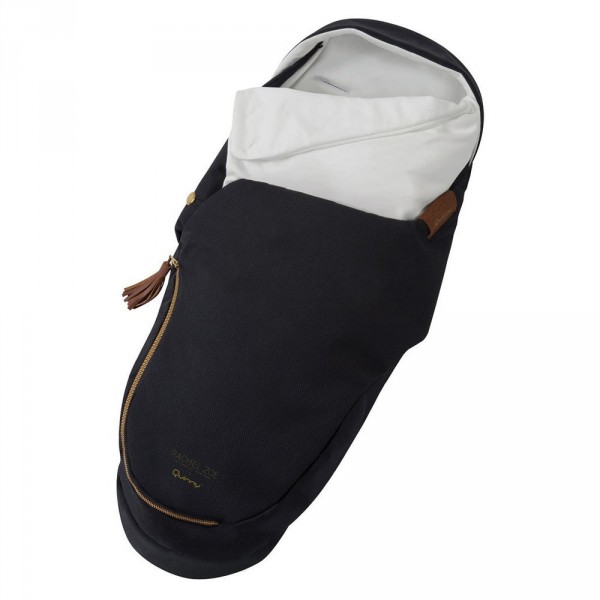 As you can tell, we are pretty impressed with this travel system, and we are accordingly awarding the Quinny x Rachel Zoe Collection a coveted five stars out of five.
Specs:
The Moodd is suitable from birth to three-and-a-half years of age.
The 3-in-1 travel system features Foldable Carrycot and Maxi-Cosi car seat.
Its 2-way reclining function is designed to suit newborns and toddlers alike.
The Pebble Plus is suitable for use from birth to approximately 12 months
The car seat features impact-absorbing material for optimum protection.
Highlights:
The cognac leather and gold detailing across the travel system oozes luxury.
The Moodd reclines to a fully flat position, to ensure your newborn's comfort.
Thanks to its gas spring, the Moodd automatically unfolds, and is super-easy to fold.
A range of stylish add-ons are available.
The Changing Bag has loads of storage room, and useful extras.