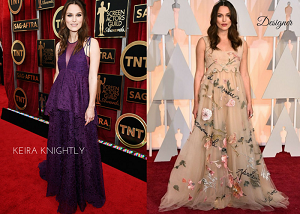 When it comes to the celebrities and maternity fashion, it can be a case of 'nice' or 'yikes'!
Some wear familiar labels we know and love, and others are simply 'designer, designer, designer', where money is clearly not an issue.
We have put together six celebrities wearing
casual and event
maternity wear, and of course, you can steal their styles at affordable prices.
First, we have the well-known
Kourtney Kardashian,
who wore so many different styles during her last pregnancy. She really loved those figure-hugging styles and was not afraid to try horizontal stripes.
I love how she has teamed this dress with nude pumps and a bright yellow bag, and she seemed to go tighter with dresses as her bump expanded.
Steal her style with this gorgeous ecru and steel blue striped dress by Boob (now on sale), and shop this look at
stylemama.ie
.
Kim O'Driscoll
Kim is the partner of
Peter Coonan, who starred in the well-loved series Love/Hate. Here, she
wears a gorgeous full-length, fitted black dress, its lace and scalloped edging giving it such femininity.
Pictured attending the 2014 IFTA Awards, we have to say she looks so beautiful in this dress. Where did she get the dress, you ask? It was indeed at Stylemama!
She popped into us only a few days before the very important event and fell in love with this dress by Nicole. It is €80 to hire, and worth every penny.
Beyonce Knowles
Every look we saw on Beyoncé was so glam - she is such a fashionista!
Even on casual days out, she experimented with fashion. She wore just a few designer labels including
Roberto Cavalli, Vera Wang, and Dolce & Gabbana.
Bey chose to wear an orange floor-length dress by Lanvin at the VMAs in 2011, choosing to announce her exciting baby news on the night.
Get this look at stylemama.ie with our one-shoulder, kaftan-style dress by
Annalisa,
available to hire for €80 (coming soon in burnt orange).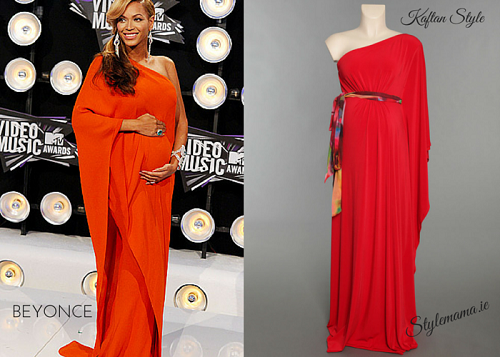 Heidi Klum
Having dipped into her own maternity label, and with a new lingerie range coming soon, she just has to have great maternity style, right? Yes, we adore her every look.
She was spotted on the red carpet on numerous occasions and was styled to perfection. We also saw her in oversized T-shirts and leggings, and she still looked so relaxed and stylish.
Here, she wears a simple black tank dress, and it's such a chic look; a dress for every woman's maternity wardrobe. Steal her look at
Vanessaknox.com
€110.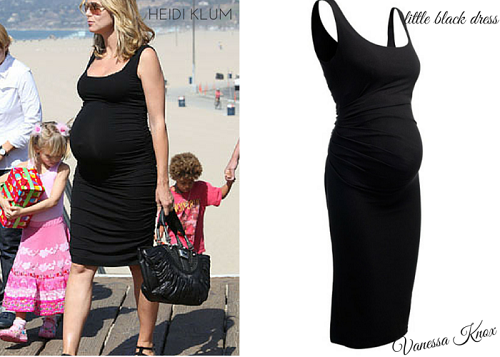 Hilaria Baldwin
Married to Alec Baldwin and well known for her love of Yoga; she loved stripes, colours, fitted dresses and, of course, still remained a UK size 8.
She worked out hard during both of her pregnancies, so she looked great in most styles. Her favourite brands seemed to be Isabella Oliver & Vanessa Know. She was also named as the second best dressed pregnant star by Vanity Fair.
Here, she wears a red T-shirt dress with a cardigan over it on a casual day for her, with toddler in tow.
Shop this style at IsabellaOliver.com.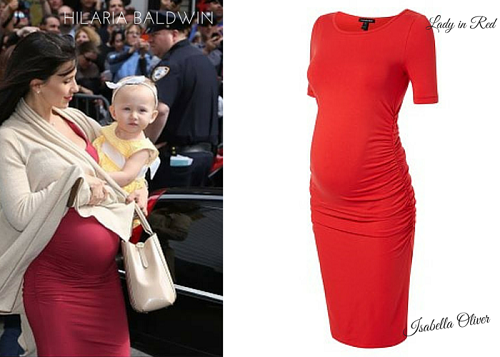 Keira Knightley
Well known as a great Hollywood actress, her style to us was definitely unique, and some of her styles screamed designer. She seemed to stay clear of the fitted look, and went for a more girly look for day time. Her dresses were quite dramatic when she walked the red carpet, however.
We couldn't find a look with familiar labels we know, but she certainly took some fashion risks and seemed comfortable when doing so.
Leith Clark was her stylist, and seemed very creative when working with her; they are good friends and Leith has stuck with Keira's own style, even when pregnant.
Here, she wears an Erdem dress at the SAG awards. She said she preferred loose-fitting clothing in general, but we think this dress could do with less material as it adds on too much.
It's really about what you feel comfortable in, and Keira certainly looks confident. I am sure this dress cost a fortune!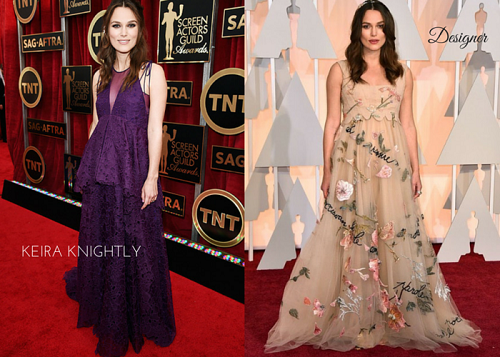 We hope you enjoyed this read! Next month, join us here to see what styles and colours are in for autumn. There are so many gorgeous brands coming - mums-to-be will be spoilt for choice.