Navigating the issue of climate breakdown can be a heavy topic for any mum to face.
We want to set a good example for our kids, who will have to shoulder some of the ecological burden as they grow older, and learn how polluted our world has become. But how?
We spoke to the wonderful CEO of Ocean Conservancy, Janis Searles Jones, about fighting to protect our oceans, teaching our kids good sustainability practices and holding on to our passion.
Her areas of expertise include environmental law, arctic conservation and policy as well as marine conservation.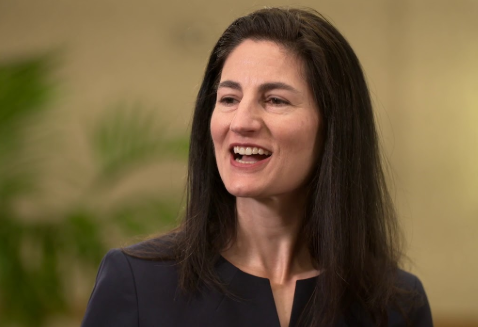 The CEO began her career as a young environmental lawyer over 20 years ago in Alaska, "arriving with my dog and all of my belongings in the back of a pickup truck, ready to protect and defend public resources.
"As a young environmental lawyer, it was a profound experience working on natural resource issues in Alaska and alongside its citizens, and experiencing the state's vastness and incredible beauty. The experience has shaped the rest of my career by helping me understand what it takes to make long-lasting, meaningful change, from fighting like hell to defend some of our nation's core conservation provisions, to finding common ground, forging alliances and working with partners.
"Today, I'm proud to be leading an organisation that is working to create science-based solutions for a healthy ocean and the wildlife and communities that depend on it every single day."
It can be tricky to encourage our young ones to fight to protect the world around them. Janis has a daughter herself, and is no stranger to the problem of motivating our kids to understand vital causes;
"As a mother to a young daughter, I think about ways to engage girls and women a lot. One great way to start is to join Ocean Conservancy for this year's International Coastal Cleanup on September 21st. The ICC is the world's largest single-day volunteer effort to fight ocean plastics. Together, our volunteers have the opportunity to keep more than 20 million pounds of plastic and rubbish out of the ocean.
"Last year alone, nearly 800,000 volunteers in more than 100 countries collected nearly 20.5 million pounds (or 9.3 million kilograms) of rubbish, much of it plastic. It's a great way for kids and families to have a tangible impact in their communities and to be part of a global effort at the same time," Janis continues.
Curious how you can start your own coastal cleanup? We've got you. Join #TeamOcean and learn how to create your own cleanup for this year's #ICC! https://t.co/PlaiOVZ9pc

— Ocean Conservancy (@OurOcean) August 28, 2019
Speaking to Janis about those who push her to keep going as a CEO, a mum and as a person seeking environmental healing for our planet, she mentioned a name on everyone's lips;
"Greta Thunberg has been amazingly inspiring. She's on a boat right now sailing across the Atlantic to raise awareness of the impact carbon emissions and other greenhouse gases are having on our planet.
"I can think of a few examples here in the United States of friends and colleagues that inspire me daily: Vikki Spruill, of the New England Aquarium and Julie Packard of the Monterey Bay Aquarium. They are doing incredible work to not just educate their visitors, but also to arm them with ways to engage and make a difference for the ocean," Janis adds.
Her family are enthusiastic about Janis' job, and the environment has rubbed off on them all;
"We spend a lot of time at the Oregon coast. My husband would rather go crabbing or clamming than just about anything else and my daughter is obsessed with Oregon's tide pools! I think I have a budding marine conservationist on my hands, but it's still too soon to tell if she'll make a career out of it."
There are plenty of ways for mums to create positive habits in the home about having respect for the world around them.
"Find a water bottle that you and your kids love, and carry it everywhere. Just make it a habit. I have a beat-up one I take everywhere with me, and my daughter really loves her bamboo set of cutlery that goes to school with her. And we have all sorts of interesting conversations about what things are made of or packaged in before we buy. It has really cut down on her interest in a lot of the ubiquitous little plastic toys and games out there."
When it comes to running a global organisation and being a mum, Janis has words of wisdom that can be applied to both;
"Always be prepared, and be prepared to be flexible. Have a plan, but be open to discovery."
If you want to get involved in the 2019 International Coastal Cleanup on September 21, use this interactive map and sign up to clean up here.
#TeamOcean includes everyone from Glenn Close to The Red Hot Chili Peppers, and Ocean Conservancy are expecting another million volunteers to come together in an effort to keep our oceans clean.
The recently-released findings show that for the first time ever, plastic cutlery ranked among the top 10 most collected items from global beaches and waterways.
The food and beverage industry continues to cause problems, so why not invest in your own reusable cutlery, metal straws, lunchboxes etc? The new reuzi shop just opened, and we can't recommend it enough for sustainable kitchen goods.