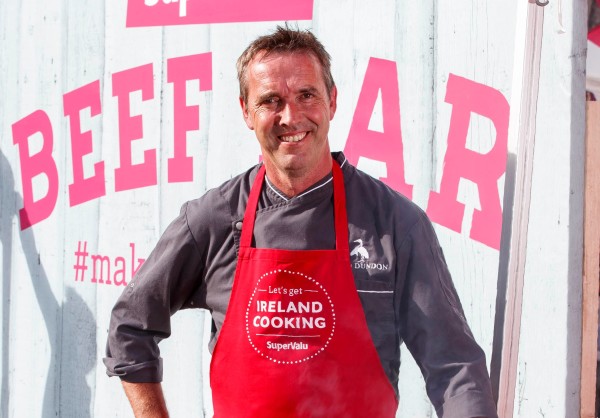 Summer is in full swing, and if you haven't already, it's a great time to organise a garden party with your friends or bring your children to a fun picnic.
To get some nice ideas and tips about BBQ and summer cooking, we sat down with one of Ireland's best-loved chefs and SuperValu ambassador Kevin Dundon. From the mistake people make when cooking on the BBQ, his favourite picnic recipe to the best summer desserts, the owner of the Dunbrody House and cookery school answered all our questions!

What recipes would you make for a nice family picnic?
I would start with a tortilla omelette, with Irish rooster potatoes, onions, garlic, all sliced finely and fried with olive oil in a pan. Cook them all the way through. Beat five eggs, pour the potato, onions and garlic into the eggs, season with salt and pepper and pour back in the pan so you get this lovely thick cake and cook through. It's amazing cold as it is hot.
A Mediterranean sandwich is also really nice. Get a sourdough loaf, take out some of the inside, chargrill some peppers, courgettes, onions and aubergines on a pan. Layer them up inside the loaf, drizzle some green pesto and sundried tomato pesto over them and keep layering them inside until the loaf is full. Close the sourdough, and you can let that sit overnight. Then cut it into slices and it tastes delicious!
Another thing I would do is peri-peri chicken drumsticks. Mix cayenne pepper, chilli, dried garlic, dried onions and roll the drumsticks in this spice mix, put them in a roasting pan with half a glass of apple cider, cook at 180°C for about 35 minutes. The cider makes a lovely caramelisation on the side of the drumsticks.
Do you have some tips for a great summer party with friends?
When you have a bunch of people over to your house, if you want to do a barbecue, prepare all your meat in the morning, make your marinade, make all your salads and keep everything in the fridge. Then just before you light up the barbecue, have everything ready, your salads on the table, before you start putting anything onto the barbecue. The most important here is that you don't get distracted because whatever you decide to put on the barbecue can burn really fast. You need to stand over your barbecue and keep turning your meat to get that lovely golden brown on the outside and it's cooked through.
Another good tip is that if you are making chicken legs or chicken breasts, you can actually poach them in a vegetable stock first, so they are cooked all way through, then take them out, marinade them in a BBQ sauce and just finish them on the barbecue, therefore you are not worried that your chicken is undercooked.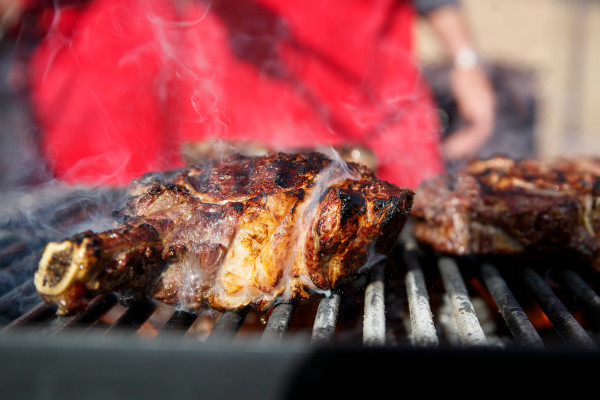 Apart from throwing some burgers on it, how can I make the most of my BBQ?
At this time of the year, I'd cook most of the food in the kitchen but I'd cook whatever protein I'm using that day over the barbecue. I'd do for example a roast leg of lamb, it takes about 1 hour and a half to cook and it's amazing on the barbecue, you get that smokiness and wood flavour going through your meat. We can do it at this time of the year so let's do it!
If you pick up a whole salmon, the fishmonger will clean it out for you, then you can put fresh lemon, dill, parsley and sliced onions into the cavity of the fish. Wrap it in tin foil, put a bit of white wine over the top, close up the tin foil, place that on the barbecue and this will steam and poach your salmon. Then, literally bring that to the table, and you'll have all the steam and the flavours coming out of the fish, it's beautiful.
What mistake do people make when doing a BBQ?
The mistake a lot of people make is that they work out of two spaces - in the kitchen and outside. The most important thing is that you get everything done in the kitchen and have everything you need at hand before you start cooking on the barbecue so you don't have to leave it. Have your salt, pepper, sauces, tools, on a table by the barbecue and then enlist friends and family to help bring out the salad bowls, set the table, get all that sorted. Then you can stand at the barbecue and chat, because it's a very social cooking experience and I think that it's important that you are not stressed. If you are organised, you can stand there and enjoy a glass of wine or a beer while turning your meat.
What sides would you make with a BBQ?
I love corn on the cob so I'd definitely make some! I'd cook them in the kitchen and finish them on the barbecue
to get that charcoal flavour
. Add a little bit of garlic butter and it's amazing. A warm potato salad is also really good, particularly with the new potatoes in season at the moment. Boil them, half crush them and when they are hot, add your mayonnaise, mustard, salt and pepper, lemon juice and parsley and mix through. When the potatoes are warm they take all the flavours of the mayonnaise so you get a lovely creamy potato salad. It's also important to have a light salad, like fresh greens with just lemon juice, olive oil, salt and pepper.
This time of the year the tomatoes are amazing and so sweet so slice those down, add some chopped green onions, balsamic vinegar, a little bit of olive oil. Keep your flavours simple because with the charcoal meat, there is already loads of flavours going on and you don't need to go strong on your dressing. If you want you can also go to SuperValu and pick up delicious salads already made for you, that's a really easy option!
What are your favourite summer desserts?
My ultimate summer dessert is strawberry, raspberry and peach pavlova. I actually had it last night, I can still taste it! The other one that is really nice and that you can make a couple of days before your party is a summer pudding. Get some berries, whatever you can find, put them in a pan with some butter and sugar. Bring them to the boil, squeeze some orange juice, lemon juice, add a drizzle of honey so you are making kind of a fruit compote. Then get a sliced pan, remove the crust of the bread and cut it in fingers. Dip in the fruit juices and lie a pudding bowl with the bread so it forms a case on the outside. Then fill it with the fruit mixture and close the pudding with more bread. Let that set in the fridge overnight and when you turn it upside down you get a lovely dome of fresh berries. Serve it with vanilla ice cream or fresh cream.
I have friends coming for dinner last minute, what should I make?
Take up the phone and call a takeaway (laughs)!
What are the fruits and veg you love cooking the most in the summer season?
Aubergines, avocado, peppers, garden peas (I absolutely love them, they are so sweet) and tomatoes. For fruits, strawberries. Particularly this year, they are insanely good.
Any idea for a nice summer drink?
Get some strawberries, or use the ones that are getting bruised, take the stems off, place into a blender with a sprig of fresh tarragon, a little bit of honey, and pulse until you get a lovely puree. You can use it with gin, place a little bit of that puree at the bottom of your glass, add ice, some gin, tonic, and garnish with a strawberry. You can use that same puree with Prosecco, it's gorgeous. So these are for the mums and dads!
For the children, add some vanilla ice cream and a little bit of milk to the puree, you'll make a lovely strawberry shake!