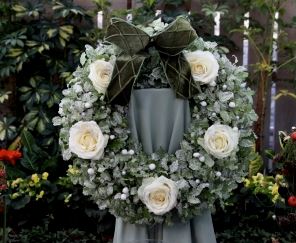 If you are looking for ways to entertain the little ones and pick up some Christmas gifts this year, then look no further than Powerscourt House and Gardens. Mums can wander around the new Autumn Winter collection by Soul as the kids enjoy all the festive activities that Powerscourt has to offer.
From the 30th November, children will be able to get up close and personal with Santa's reindeer, miniature donkeys, rabbits, pigs and guinea pigs and, from 7th December, Aideen McBride will be embracing the magic of Christmas as she reads traditional tales that the whole family can enjoy.
For mums who want to put a bit more thought into their present they will get the opportunity to make hand-made gifts at Tara's Palace, but if arts and crafts are not your thing, why not take part in the annual Christmas Quiz. Remember, everyone who visits Tara's Palace will be entered into a draw to win a wonderful hamper filled with Christmas goodies.
And finally, Christmas just wouldn't be the same without a visit to old St. Nick, so, from the 30th November, why not bring the kiddies along to Powerscourt so they can personally give their letter to Santa Claus.