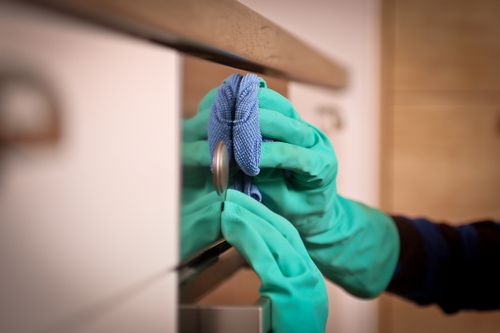 Cleaning the oven has definitely got to be one of those jobs that we leave to the last minute because the thoughts of it can make us feel tired. Needless to say, this means we are often left with a job bigger than it needs to be.
It is important you are careful with what substance you use on the oven because you don't want to use anything too rough. And while there are plenty of oven cleaner products available, a simple mix of baking soda, vinegar and elbow grease, will work just as well and won't leave your home smelling of harsh chemicals.
What you need:
Baking soda
Water
White vinegar
Spray bottle
Method:
Take out all the racks and pans that are in the oven.
Using a damp cloth, quickly wipe away any loose food.
Mix about 120g baking soda with 5 tablespoons of water – you will have to adjust this depending on the size of the oven and how dirty it is. You are trying to create a spreadable paste.
Spread the baking soda paste all over the interior of the oven, excluding the heating element.
Allow to sit for a few hours.
After a while try to see if the dirt comes away easily enough: if it does continue to wipe it away with a damp cloth; if it doesn't you'll need to leave it for another little while.
Pour your vinegar into a spray bottle and spritz over the remaining baking soda so that it foams up making it easier to wipe.