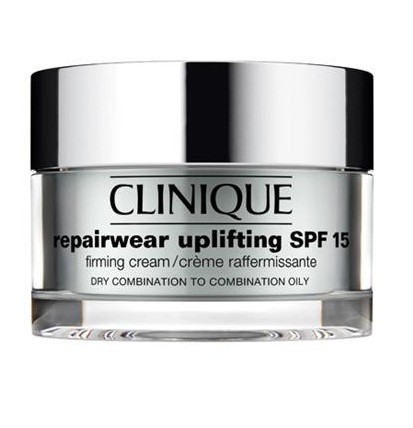 Ageing skin isn't just evident with lines and wrinkles. A loss in firmness of the skin can also make your face look much older. As we age, our skin begins to lose volume, collagen and elastin production decreases, so the pull of gravity starts to show on your face. That youthful plumpness fades and sagging takes its place...not ideal if you are going for the 'yummy mummy' look.
Clinique has introduced a new daytime solution that awakens the entire face. New Repairwear Uplifting SPF 15 Firming Cream is formulated with ingredients specially selected to help firm, volumise and restore skin texture, as well as protect against UV damage.
What we love about this product is that your skin achieves an immediate firming sensation upon application. With continued use skin begins to look "weightless" as the formula fights the long-term effects of gravity and helps resort youthful volume. The products contains a team of ingredients that use signaling technology, a way for cells to communicate effectively, in order to help visibly rebuild and volumise the skin.
Repairwear Uplifting SPF 15 Firming Cream is dermatologist tested and non-comedogenic. It is available in two skin-typed formulas and should be applied in the morning and night after the appropriate 3-step skin care regimen.
Available at Brown Thomas now, available nationwide at Clinique counters from 2nd November. New Repairwear Uplifting SPF 15 Firming Cream has an RRP of €68.00