You probably spend more time in the kitchen than any other room in the house.
That is why it's important you feel happy and at home in your kitchen, and what better way to do this than to add a striking splash of colour to this space.
A drab kitchen won't do much to inspire those fabulous dinner ideas or new dessert recipes, so why not switch your drab sink for a colourful one, order some quirky appliances, or even give your floors a bold makeover.
Cabinets
The days of having all your kitchen cabinets the exact same colour and style are gone. In today's modern kitchens you will see an eclectic mix of using different colours cabinetry in the kitchen. This is most effective with blocks of cabinets, such as an island and then a wall of cabinets can differ in colour. Seek advice from a kitchen design professional in choosing colours and cabinetry styles that work well together.
Kitchen sink
Brighten up those dish-washing chores with a bold pop of colour in your kitchen sink. This burst of brightness will go a long way to livening up your kitchen space.
Appliances
There is an entire range of beautifully designed appliances out there that will give your kitchen an injection of colour, and inspire some truly delicious cooking. Experiment with a powder pink blender, or think bigger with a bold red refrigerator.
Kitchen Island
Give this space a punch of colour with a bright kitchen island that'll draw the eye to the centre of the room.
Seating
Swapping neutral-hued seating or kitchen stools with a vivid colour of your choice, will lift the overall look of your kitchen in the simplest way. Add matching table placemats for subtle co-ordination.
Ceilings
Your ceiling is too big a space to waste if you want to add colour to your kitchen. A lick of paint - be it soft pastels or vibrant bolds - can add an instant colourful glow to your kitchen that will last all year round.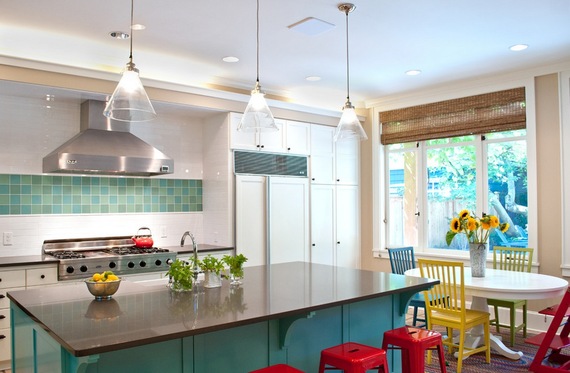 Images via Pinterest.