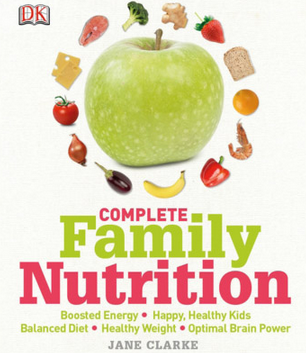 Fancy enjoying delicious, nutritious and scrumptious dishes at every meal? Well, you need to invest in Jane Clarke's Complete Family Nutrition.
Eating healthy isn't about obsessing about carbs, sugar and salt, but rather knowing which foods you need to have in your diet to keep your body ticking over nicely.
Once you get a hang of the principles of heathy eating you will be able to whip up delicious meals without stressing over just how healthy they are – you will already have the basics down to a tee.
Unfortunately, for some mums the problem is not about a lack of understanding of which foods are healthy, but rather a lack of time on trying to put together meals that are both tasty and good for you in a short space of time.
Thankfully, leading British nutritionist Jane understands this and her book shows how there is nothing worng with quick and simple dishes, so long as they are cooked with ingredients of high quality.
As Jane says, a poached egg on toast can be utterly delicious and nutritious and takes no more than five minutes to appear on the plate.
She is well aware of how easy it is to resort to using prepacked foods that are full of sugar and salt, especially when you are tired, but her recipes will rival even the most tasty frozen food in the store.
Complete Family Nutrition is not only great if you want easy, quick meals that are nutritious but also if you want to understand where the nutrition comes from and understand the basics of food for the family.
The book will stay with you for a long, long time, as it helps even when your nutrition needs a bit of an adjustment, like when the kids hit puberty or when you reach old age.
This is a must-have kitchen essential for anyone who wants to give their immune system a boost, restore stamina and enjoy something tasty and delicious at the same time.