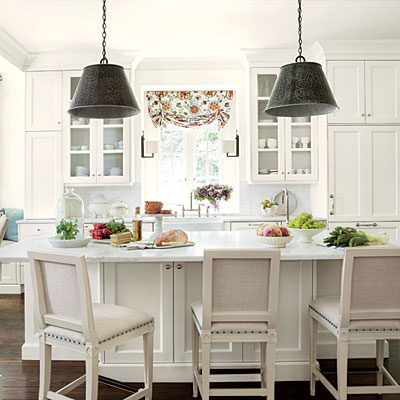 Have you noticed that if your kitchen is messy, the rest of your home doesn't feel quite right somehow?
While running a busy household, messiness can really sneak up on you.
But when things aren't in their proper place, the smallest task - making tea for friends, putting away groceries - can feel like a much bigger challenge.
By following this simple weeklong plan, you can turn your cluttered kitchen into a beautifully organised space the whole family will love to spend time in.
Day 1: Tackling appliances
Decluttering tasks: Take everything out of the fridge and freezer, and throw out anything that has gone off or that you don't need.
Cleaning tasks:
- Wipe the shelves of the fridge; wash fruit and vegetable drawers with warm, soapy water.
- Degrease the cooker top and give the oven a good scrub.
- Clear the crumb tray under the toaster.
- Clean out the microwave.
- Pull your fridge away from the wall and hoover the space behind it.
- Run the dishwasher without anything in it.
Day 2: Cupboards and drawers
Decluttering tasks: Take everything out of your cupboards and get rid of things you never use. Repeat this with drawers and shelves.
Cleaning tasks:
- Wipe down cupboards and shelves.
- Inspect pots and pans, and give cooked-on spots and stains a good scrub.
Day 3: Organising the pantry
Decluttering tasks: Working one section at a time, take everything out of your pantry and toss out expired food. Sort what you are keeping into categories based on when you use the items – for example, breakfast foods on one shelf, baking products on another.
Cleaning tasks: Give pantry shelves and containers a good clean with soapy water as you declutter.
Day 4: Tackling the sink, bins and drain
Cleaning tasks:
- Pour white vinegar down the drain and let it sit for at least 10 minutes; rinse with boiling water.
- Clean your bins and recycling containers, inside and out.
- Scrub your sink and around taps, paying special attention to joints where grime can build up.
Day 5: Clear the counters and open shelves
Decluttering tasks: Remove and sort through everything on your open shelving and counters.
Cleaning tasks: Give your counters and open shelves a good cleaning while they are empty, paying special attention to corners.
Day 6: Wash the windows, walls and floors
Cleaning tasks:
- Starting at the top, hoover the ceiling, walls and, finally, the floor.
- Use an all-purpose cleaning spray to spritz and wipe the walls and cupboard exteriors.
Day 7 and beyond: Make your kitchen a place you love
Decluttering tasks: Today is the day to give your kitchen some love. Remove the piles of newspapers, laptops, bags of pet food, and anything else that is cluttering it up. Make a list of anything you can do to make your kitchen an even nicer place to be in and work through them gradually.
Cleaning tasks: Commit to clearing the decks each evening by putting away all dishes and taking out items that belong elsewhere.
Image via Pinterest.