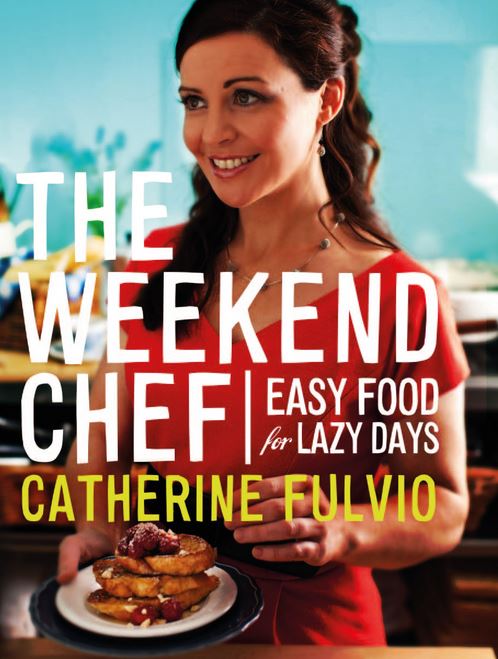 A relaxing weekend is the inspiration behind Catherine Fulvio's newest cookbook, The Weekend Chef.
Everyone needs to recharge and it's much easier to return to the Monday to Friday routine when you've allowed some time to unwind. Bringing a relaxed attitude to weekend cooking allows worn out mums the opportunity to slow down after a hectic week of grocery shopping, school runs and after-school activities.
With a busy scheduled that includes running a B&B and cookery school, Fulvio knows how important it is to slow down where possible and makes a decided effort to keep Saturdays and Sundays sacred whenever she can.
In her latest offering, she shares her recipes for all the best parts of the weekend, from baking on a rainy afternoon to the perfect TV dinners for movie nights. Recipes range from simple Tagliatelle with Chicken and Creamy Lemon Sauce to a Blackberry and Pear Cake with Hazelnut and Honey Topping.
The Weekend Chef was designed to encourage home cooks to forget about the midweek humdrum and express meals. This collection of recipes allows mums to remember why they love cooking and demonstrates how a couple of dishes can completely transform a run-of-the-mill weekend event such as watching matches with the family.
Catherine Fulvio is one of Ireland's top television culinary stars and also runs Ballyknocken House Cookery School. Her previous works include Catherine's Family Kitchen and Eat Like an Italian, which won Irish Cookbook of the Year at the 2012 Bord Gais Energy Irish Book Awards.
The Weekend Chef is currently nominated for Avonmore Cookbook of the Year at this year's Bord Gais Energy Irish Book Awards. You can vote for Catherine Fulvio's latest culinary collection
here
.