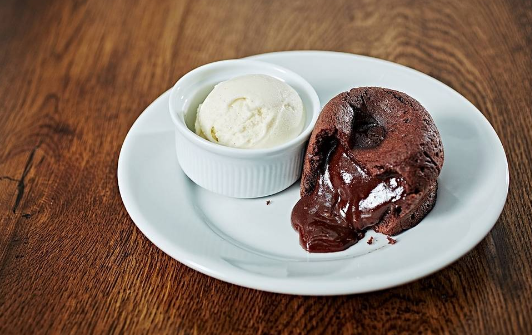 Sometimes, going out for Valentine's Day seems like way too much bother, especially with the big night falling on a Tuesday this year.
Cooking a great meal for your partner and retiring to the couch (or the boudoir) for the night is just as romantic an option, so send the kids off to bed early and consider cooking.
However, the stress of putting together the perfect romantic menu can put a lot of people off, so we asked George Casey, an esteemed chef and owner of elite catering company George Casey Catering, to walk us through the perfect couple's menu.
Jan 6, 2017 at 7:37am PST
Obviously, we need a bit of bubbly to get us started, and the chef recommends pomegranate Prosecco: "It sets the mood off on the right note, and it's tasty!"
Once the Champagne flute is in hand, we'll be feeling a bit more confident to tackle the first course: a dish of tempura oyster with wasabi mayo and pickled cucumber. No big deal.
However, oysters are essential.
"Its the food of love," says George. "I find it's a great way for people who are squeamish about oysters to try them. Let's be honest; we should all try something new."
Jan 28, 2017 at 9:27am PST
Moving on to the mains, George recommends some delightfully indulgent dishes that we'd be seriously impressed with, come Valentine's Day.
Linguine al frutti di mare all' arrabbiata is George's first recommendation, or 'spicy pasta', to us mere mortals.
"Its very simple but, done right, it's fantastic. Everyone needs a bit of spice in their lives. You could easily replace seafood with chorizo sausage, if you like."
Jan 27, 2017 at 12:13pm PST
A côte de bœuf with béarnaise sauce, triple-cooked chips, and tender stem broccoli with smoked almond dressing is the chef's second recommendation for a main, which sounds mouth-wateringly delicious.
"Its a sharing dish for you and your love. It's got to be quality beef, nothing over medium-rare, killer chips with a great sauce and a bit of green to make you both feel like you're getting your five-a-day(plus 10million calories)," advises George.
And finally, for dessert, it's got to be chocolate.
Jan 28, 2017 at 2:21am PST
Chocolate fondant with peanut ice cream is the way to go: "Its the ultimate luxurious, luscious and naughty dessert."
And if you and your bae can manage another treat, it's all about the cheese board and red wine because, as George says: "January is well and truly over!"
We're starving just reading this menu!