Coronation Street star Tina O'Brien married rugby player Adam Crofts in a stunning ceremony in Manchester's King Street Townhouse on New Year's Eve and it sounds like it was a complete and utter fairytale.
Tina spoke to OK! Magazine about the momentous occasion and finally gave fans a first look at her beautiful wedding dress.
The bride wore a simple floor-length white gown for the big day. Tina admitted that she was extremely nervous about the spotlight being on her.
"My heart was hammering. It felt so intense. I didn't take it lightly committing to being with somebody for the rest of my life," she confessed to OK! Magazine.
She continued: "I found the idea of everybody looking at me quite nerve-wracking. But I was just so happy to see Adam, Beau and Scarlett all dressed up."
Luckily, the mum had her two children by her side to keep her nerves at bay. She explained that having her four-year-old son Beau and her ten-year-old daughter Scarlett there on the day was extremely important for her.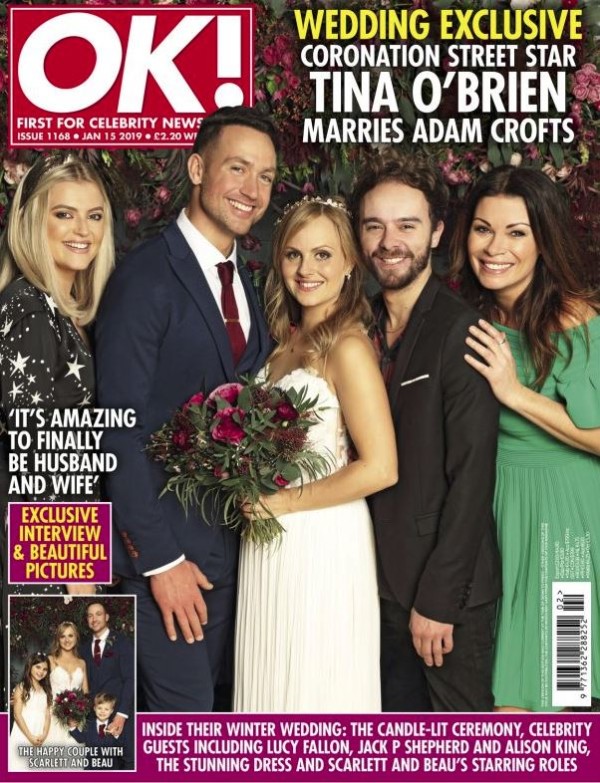 Tina and Adam wanted to ensure that both kids player major roles in the ceremony.
The mum gushed about her youngest child Beau who was super proud of the part he played in his mum's big day.
"Scarlett did really well, too. I was surprised she didn't snatch the microphone and start singing! They had the run of the whole hotel. I think Scarlett thought she was the queen," the soapstar shared.
Despite the nerves, the Coronation Street actress said she couldn't have been happier. "It's amazing to finally be husband and wife," she admitted.
Huge congratulations to the happy couple.