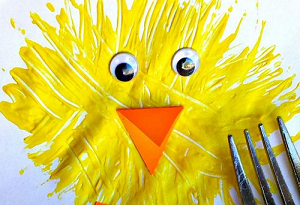 Sometimes it's the simplest of hacks that can make all the difference when it comes to your craft projects, and this is exactly the case with this cute Easter chick. Perfect for your small ones, this couldn't be easier.
What you will need:
Paper
Yellow paint
Orange card/ paper
Googly eyes
Glue
Fork
Paintbrush
Method:
Decide on where you want your chick – whether it's part of a picture or a pretty Easter card – and squirt or paint on some yellow paint onto your paper.
Using your fork, work it over the paint, as pictured, going around in a circle. This will create the chick's fluffy, feathered look.
Once dry, stick on your googly eyes with a dab of glue.
Cut out a nose and legs, and stick them on to complete your cute Easter chick.
Images via Pinterest