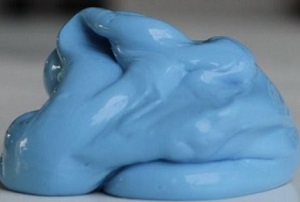 When it comes to occupying the kids, anything gooey can keep them entertained for hours. They will love this easy-to-make slime, and will have great fun squeezing it into different shapes.
What you need:
A small bottle of liquid glue
1 teaspoon borax powder (available from the chemist)
Bowl
Spoon
What to do:
This couldn't be easier; spill the glue into the bowl and add in the water and borax, mixing with a metal spoon. Stick your hands into the mixture and give it a squeeze around. When it starts to feel a bit more solid, pull your mixture out of the bowl and squeeze out the excess water.
Tip: Add food colouring and glitter to the mixture, to add some colour and sparkle to your slime.
Image via Pinterest