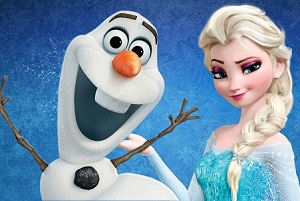 What child doesn't love Frozen and its cast of cute characters? If you have some mini Frozen fans at home with a little time on their hands, this simple craft is the perfect project for them.
What you will need:
2 polystyrene cups
2 brown pipe cleaners
Battery-operated tea light
Googly eyes
Orange and black card
Tape
Black marker pen
Scissors
Glue
What to do:
Stick the two cups together at the rims using clear tape around the circumference.
Cut the base of one of the cups so that you can fit the tea light in underneath.
Next, make a hole going right through the middle of the cups. Cut one of your brown pipe cleaners in half, then stick them through the holes on each side, turning upwards for arms.
Taking the other pipe cleaner, cut it into several small strips. Push the pieces of pipe cleaner through the top of your creation to serve as the hair.
All that's left are the details; stick on your googly eyes and draw some Olaf-inspired eyebrows above them.
Cut a triangular nose from the orange card and stick right below the eyes.
Cut three jagged circles from the black card and stick them on, one beneath the other, along Olaf's 'tummy' for buttons.
Next, take your marker and, using a picture for guidance, draw Olaf's happy grin.
Turn on your tea light, stick it under your 'lamp', and watch it glow up.
Image via Pinterest