Getting our kids to exercise can prove a little difficult at times, particularly with those tablets and games consoles within arm's reach at all times. However, this little tip is sure to add some fun to proceedings.
What you will need:
Styrofoam blocks
Coloured paper
Plain paper
Markers in various colours
Adhesive (preferably a glue)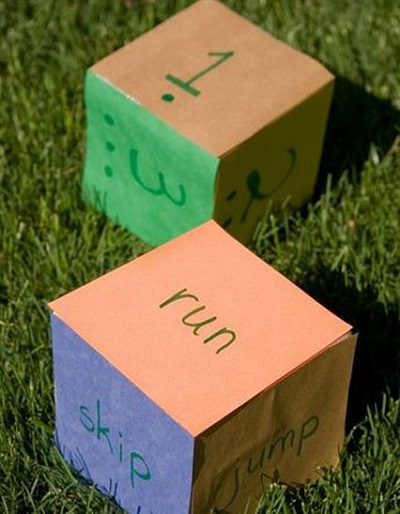 Method:
Cut two cubes of styrofoam to about the size of a basketball.
Measure some coloured paper to fit each side of the cube – this will require 12 sheets.
Get your little one to come up with six different actions – e.g. running, crawling, skipping, etc. – and write them down on the paper.
Use the remaining six sheets to write down the numbers 1 through to 6.
Glue the sheets of paper to both styrofoam cubes, keeping the numbers to one cube, and the actions to another.
Once the cubes are ready, it's time to take them outside for some fun! Roll the cubes as you would a dice, and get your child to carry out the action using the number for guidance – e.g. skipping in two circles, or running three widths of the garden.
Images via Pinterest