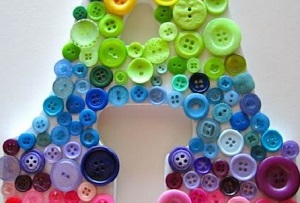 There is something so pretty about decorating using your child's name, and this has to be one of our favourite ideas. Just like the pretty tissue paper craft idea from yesterday, this will make for a beautiful addition to the wall. The best thing about this is that it is so easy, and you can put some of those odd bits and bobs cluttering up the house to good use.
What you will need:
Some clear plastic backing or a letter stencil
A scissors
Glue
A selection of buttons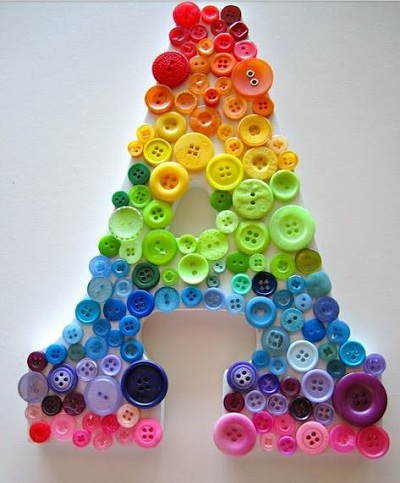 Method:
The easiest way to approach this project is to use a stencil in the letter of your choice. You can pick these up in kids' crafts or art supply stores. Alternatively, you can use some clear backing and cut out your chosen shape, but be prepared to give a lot of concentration and attention!
Gather buttons from storage in the house, or go to a craft shop and buy some in various different sizes, shapes and colours. You may want to decide upon your colour scheme and pattern in advance, such as the beautiful rainbow arrangement pictured.
Once you have your outline and your materials, it's time to get creative. Add a dab of glue to the back of each button, and gently press it down to ensure it sticks to the clear backing.
Images via Pinterest