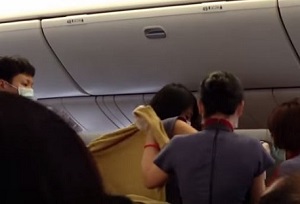 We've heard of stressful or uncomfortable flights, but we think this woman has to take the crown after what she went through last week.
Incredible footage has emerged of the moment when a woman prematurely gave birth during a flight from Bali to Los Angeles.
Video footage captured by passengers shows a doctor who happened to be on board lifting the newborn, while attended by a group of cabin crew.
According to reports, the Taiwanese woman was not due to give birth for another eight weeks when her waters broke six hours into the 19-hour journey. The plane's pilot was forced to make an emergency landing, but the baby girl was born at 30,000ft in the air, half an hour before the plane touched the ground.
Needless to say, the footage has been doing the rounds on social media and making headlines around the world. In it, a fellow passenger is overheard saying: "This is a once in a lifetime thing. These tourists will never experience this again."
We're sure they won't want to either, given the high stress of the situation!
Check out the video below. We're delighted that the mother and her baby are safe and well after their ordeal.