Pumpkin Spice season has kicked off, and now you can Indulge your festive cravings whenever you please with leading plant-based beverage brand Califia Farms fall product lineup. Create your favourite festive latte at home with Pumpkin Spice Cold Brew, now back in stores nationwide alongside a delicious new addition: Pumpkin Spice Oat Barista milk.
Toast the season with Califia Farms Pumpkin Spice Latte Cold Brew (750ml, RRP €3.89): bold coffee and rich almond drink, real pumpkin puree and the warm spices of nutmeg, cinnamon and ginger. Perfectly blended and ready to drink, 100% plant-based and 100% delicious.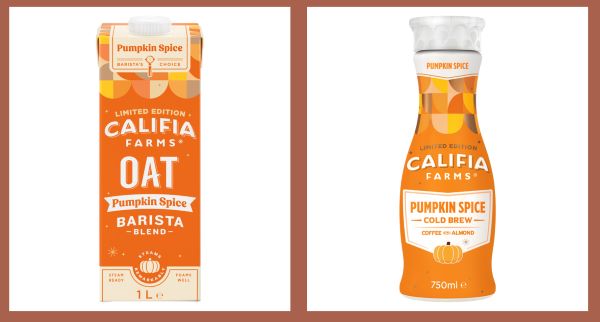 The new Pumpkin Spice Oat Barista Blend milk (1 litre, RRP €3.00) steams and froths into the Pumpkin Spice Latte of your dreams. The rich autumnal flavours come from plant-based ingredients, including real pumpkin puree plus the warm spices of nutmeg, cinnamon and ginger. Just steam or froth and add fresh espresso to create your favourite autumn latte at home.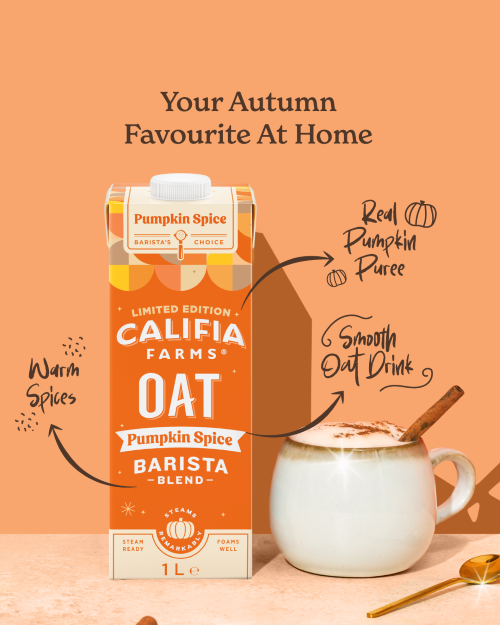 Califia Farms is on a plant-based mission, championing a future where plants replace dairy without compromising taste. Made with the highest quality ingredients from whole food plant sources, Califia Farms offers healthy and great-tasting plant-based alternatives.
Califia Farms Pumpkin Spice Latte Cold Brew (RRP €3.89) and Pumpkin Spice Oat Barista Milk (RRP €3) are available in all major supermarkets, including Dunnes Stores, SuperValu and Tesco, and convenience stores nationwide.
To explore the full range of products and recipes, head to CalifiaFarms website here.