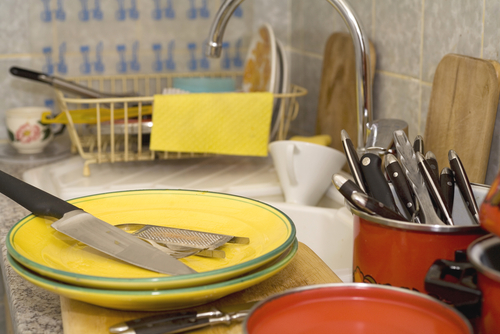 If your kitchen is getting your down, rather than spending a fortune redecorating, one of the most effective things you can do is de-clutter.
Your kitchen can become a dumping ground for so many items, that it can wear you down. To solve this problem, have a look around your kitchen for the following six items and give them away – you don't really need them.
A knife block
Yes, we admit they look pretty cool, but they can be fairly chunky and take up a good portion of your workspace. Either invest in a smaller one or just put them in your cutlery drawer.
Countless number of mugs
If you look in your cupboard you are bound to find a number of cups that you wouldn't think of drinking out of, so get rid of them. Remember, don't use it lose it.
A small cutting board
One cutting board for vegetables and another for meat is all you need. You don't need a teeny, tiny chunky board – it might look good but it's taking up precious space.
A spaghetti server
There is nothing wrong with using a traditional fork to serve the spaghetti so if it's taking up space you don't have – give it to someone who needs it.
Excess pots
A lot of kitchens have more pots that weekly dinners, and be honest you probably can't even remember the last time you used most of them. Lose the ones you don't use and keep the ones you do.
More egg cups than people
You can't get through Easter without your youngster getting at least one egg cup in a box meaning you have years worth of the things in your cupboards. Keep one for every member of the family and get rid of the rest.