Acne is not something that you can say goodbye to in your teenage years, even if you have always had clear skin, it can continue or even start when you reach adulthood.
Adult acne has a lot to do with hormone changes and even the types of products you put on your skin, but a few lifestyle changes can help you get on top of it.
1. Cut out sugar
Make an effort to add more wholegrains and vegetables into your diet to – this will help your skin. Did you know that when your blood sugar level rises too quickly, your body starts to produce insulin? This insulin can then stimulate your oil glands and produce pore-clogging cells, making you breakout.
2. Increase your water consumption
Drinking more water can help to flush toxins out of your body, hydrate your skin and boost blood flow – everything needed for clearer skin.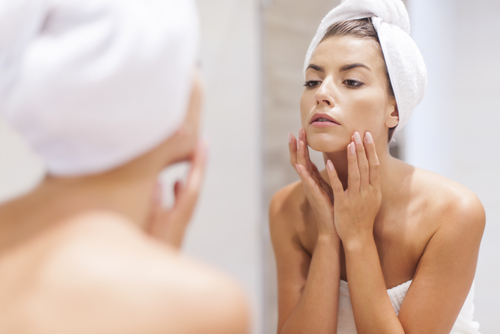 3. Up your omega-3 intake
Omega-3 fatty acids are needed to control sebum and reduce inflammation in both your joints and your skin. Fish is an ideal source, so try to consume at least two portions a week.
4. Exfoliate
Many people with oily skin don't exfoliate believing it's only for those who suffer from dry skin. However, skipping this part can actually cause dead cells to clog pores and lead to breakouts.
5. Exercise
Exercising is perfect for helping you deal with stress which in turn will help you regulate your hormones. Just make sure you shower straight away to remove any oily sweat on your skin.