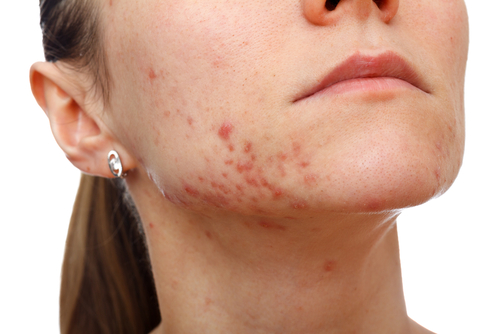 U
nfortunately not everyone experiences the pregnancy glow and a
cne duign pregnancy can be pretty common.
Thankfully, there are things you can do to ease your flare ups:
Wash your face daily
Make sure you wash your face before you go to bed and again in the morning. Go for a mild cleanser without any harsh abrasives.
Don't rub your skin
When you are drying your face after cleansing, make sure you pat your skin dry and don't rub it. This just damages your skin causing more outbreaks.
Go oil-free
Even if you had dry skin prior to getting pregnant, if your skin is starting to breakout, invest in an oil-free moisturiser. Also avoid any make-up that contains oil and instead opt for a matte foundation.
Avoid make-up
If possible, try to avoid overloading your face with foundation - concealer can sometimes be enough to hide any imperfections.
Don't pop
Never, ever pop your spots as it could cause scarring and a deeper infection.
Topical ointments
Make sure you talk to your doctor or midwife before you buy any over the counter medication to treat your spots. Not all medication is suitable during pregnancy.
Watch what you eat
Try to avoid greasy, junk food and always watch what you eat as what you put inside can be seen on the outside.