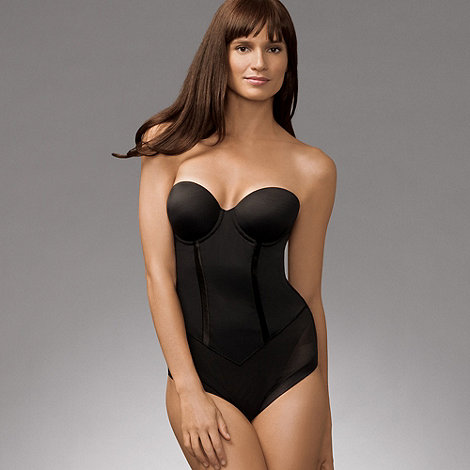 Hapless men, who constantly buy their wives and girlfriends the wrong kind of underwear, have finally found a helping hand. A 10 point "Lingerie Commandments " guide has been compiled by fashion store Debenhams to help men choose lingerie that women want to wear – rather than styles they want them to wear.
Debenhams put together the guide because so much lingerie bought by men is quickly returned by women. The two peak times when it occurs most frequently are in the run up to Christmas and Valentine's Day. Issuing the Lingerie Commandments guide will help Debenhams save time and money by reducing the amount of lingerie brought back to stores for exchange. The guide has been issued to all 161 Debenhams stores and staff have been trained to recognise hapless men in need of lingerie advice in the run up to Valentine's Day
Forget Pussycat Dolls:

A set of red PVC lingerie may not turn a woman into a minx.

Don't EVER buy her control wear:

Items which keep flabby bulges hidden may be her first choice, but buying them as a present will reduce your chances of romance – besides, as her hubby you are not meant to notice those extra bits of fat anyway!

Remember it's for her, not you:

Keep this in mind and you have a much higher chance of seeing your gift in the flesh.

Keep the receipt:

Just in case.

Do your homework:

Find out the size you need before you go shopping. Have a look online at the sort of things she might like. If you see something you think might suit her, print the page out and show the shop assistant.

Stealth is key:

When gathering information, be discreet. Have a look at her lingerie on the washing line, or on the bathroom floor for sizing information.

Take your time:

Don't panic buy the first thing you set eyes on. If you take your time to get it right, your partner will really appreciate the effort.

Follow the golden rule:

of shape, size and style – if you can get this right, you're on to a winner.

Pay attention to her and what she likes:

Is she sporty, glam, a girly girl? What does she have in her wardrobe already, and what colours does she wear?

Ask for help:

Sales advisors and personal shoppers are there to help and can aid you to find the perfect gift for your woman. Don't be scared to ask!