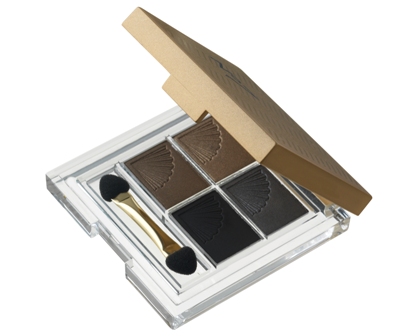 This winter the 1920's is making a comeback in the make-up department. Lisa Eldridge, No7's Creative Director, has developed a limited edition collection that recreates the chic, sophisticated look of the 20's. This collection is also perfect for Christmas as it has a fabulous hint of shimmer - perfect for the party season. You can create a dramatic eye look, or give your cheekbones a subtle bit of shimmer with the new Deco Darling collection, inspired by the glamour of The Great Gatsby.
Deco Darling Loose Powder Highlighter (€15.50) is a fabulous product to bring some sparkle to your skin during the darker winter days. Simply sweep this beautiful loose powder onto your cheeks, neck and décolletage, for a light, luminous golden glow. The powder brightens the skin, and is a fantastic product for tired mums who need a bit of glow when heading out for the night.
We love the new Deco Darling Eye Palette (€12.95) as it's perfect for creating a stunning, dramatic eye look while still remaining sophisticated. The collection consists of four decadent tones that really reflect the sultry beauty of the 1920s. Tip: Mix the gold and grey together for a subtle smoldering eye.
One really simple way to add a bit of 1920's glamour to your look is by painting your nails with Stay Perfect Nail Colour (€11.75). The 'Speakeasy' shade is a dusky shade perfect for night or day, while 'Daisy Darling' is a real eye-catching dark pink with glitter discs to really stand out.
This make-up range captures classic beauty with a touch of old Hollywood glamour and we absolutely love it. The No7 Deco Darling collection is available in Boots stores nationwide.